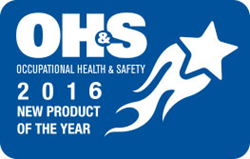 The exceptional quality and breadth of the 2016 entries is a testament to the ingenuity of these manufacturers as they compete in this fast-growing global market.
Dallas, TX (PRWEB) September 22, 2016
Twenty-two companies, including multiple winners Avery Products Corporation, CBS ArcSafe, Inc., Honeywell, and Ringers Gloves, were honored today for winning Occupational Health & Safety magazine's eighth annual New Product of the Year contest. Winners will be recognized with awards during the 2016 National Safety Congress & Expo taking place in Anaheim, California October 17-19.
This year's contest attracted entries in 21 award categories, with an independent panel of three highly qualified judges choosing the winners.
"Now in its eighth year, our New Product of the Year contest is a highly significant event for safety manufacturers, who submitted a record 84 entries this year. The exceptional quality and breadth of the 2016 entries is a testament to the ingenuity of these manufacturers as they compete in this fast-growing global market. Informing our readers and online audience about the best new products available to solve their key safety and health challenges has always been part of our magazine's mission, and this contest has become an essential extension of our outreach to the audience we serve. Many categories were hotly contested this year, especially the Hand Protection category, in which an unprecedented five products tied for the award," OH&S Editor Jerry Laws said. "I congratulate all of this year's entrants on their fine work and thank them for participating. We hope they and many other manufacturers will enter our ninth annual contest next year, as well."
The 2016 contest's judges were Vince Marchesani, Ph.D., President and CEO of Environmental, Health and Safety International LLC; Chuck Paulausky, CHMM, President of CPSE LLC, a consulting firm specializing in OSHA and EPA compliance and loss control for small to medium-sized businesses; and Linda J. Sherrard, CSP, MS, Safety Consultant II for the Central Prison Healthcare Complex (NCDPS) and former technical editor of Occupational Health & Safety.
To be eligible for the 2016 awards, products must have been introduced to the market between July 5, 2015, and July 4, 2016. The 2016 award winners are:
EHS Software
Avery Products Corporation: Free Avery GHS Wizard Safety Labeling Software
Electrical Safety
CBS ArcSafe, Inc.: RRS-3 SecoVac (IEEE)
CBS ArcSafe, Inc.: RRS-3 DB-50
Emergency Response
Honeywell: Honeywell TITAN SCBA
Emergency Showers & Eyewash
Bradley Corp.: Emergency Signaling System
Ergonomics
Ansell: AlphaTec 58-128 Light Duty Chemical Protection Glove
Fall Protection/Prevention
JLG Industries, Inc.: EcoLift 50 and EcoLift 70
Foot Protection
KEEN Utility: Tacoma XT CSA
Hand Protection
Majestic Glove: Cut-Less Diamond 37-1300
Ringers Gloves: R-179 Cut5 Super Hero Glove
Ringers Gloves: R-259 Cut5 Roughneck Glove
Superior Glove Works, Ltd.: TenActiv Cut-Resistant Anti-Vibe Gloves with Micropore Nitrile Grip
Ronco: NITECH EDT
Hazmat Safety
Honeywell Industrial Safety: MultiRAE Benzene – Wireless Portable Multi-Gas Detector
King Technology Inc.: Oxi-King Water Treatment System
Head Protection
Honeywell: North Zone Hard Hat
Hearing Protection
Honeywell: Howard Leight TrustFit Pod
Heat Stress Prevention
Comfort Innovations, LLC: The Cold Blanket
Industrial Hygiene
Industrial Scientific: Ventis Pro Series Multi-Gas Monitors
MSA - The Safety Company: ALTAIR 5X Multigas Detector
Lockout/Tagout and Machine Guarding
Brady Corporation: Transparent Gate Valve Lockout Device
Online Training
e-Hazard: Electrical Safety Hour Series
On-Site Training
J.J. Keller & Associates, Inc.: Video Training Book
Protective Apparel
Westex by Milliken: Westex Indigo - Stylish FR Denim
Safety Monitoring Devices
Blackline Safety: Loner M6
SDS Management
3E Company, a Verisk Analytics Business: 3E Online
Signage & Identification
Avery Products Corporation: Avery UltraDuty Labels with Free GHS Wizard Software
Vision Protection
MCR Safety: Dominator DM3
In addition to being honored today, the winners are featured on Occupational Health & Safety's industry-leading website, ohsonline.com.