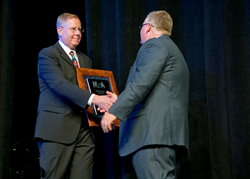 Trenton, NJ (PRWEB) September 29, 2016
Each June athletic trainers from all around the country gather for five days in a different city each year to further their education, learn about advancements in their field, and celebrate colleagues who go above and beyond to better the profession of athletic training. This year, during the National Athletic Trainers' Association's 67th Annual Clinical Symposia and AT Expo in Baltimore, Maryland, Kenneth Rogers was one of fifteen athletic trainers from around the country to receive this honor. Allan Parsells, Public Relations Chairman for the ATSNJ, sat down with Mr. Rogers to talk about his most recent award and his long career as an athletic trainer.
AP: Mr. Rogers, thank you for taking the time to speak with me and congratulations on receiving the Most Distinguished Athletic Trainer award from the NATA. How did you first get into Athletic Training?
KR: I had chronic ankle instability and my mom took me to see Dr. Torg at Temple sports medicine in Philadelphia. I had bilateral ankle surgeries in high school from him. Rehabilitation with Ted Quedenfeld at Temple. Many other injuries occurred with subsequent surgeries needed. Rehabbed with ATs at Penn Sports Medicine: Joe Vegso, Tina Bonci, Sandy Bush and Sue Genarurio. I asked them about the athletic training profession and went to Lock Haven University in Pennsylvania. I have had eight Orthopedic surgeries in my lifetime and many additional orthopedic injuries.
AP: What is your educational background?
KR: In 1983 I received a B.S. degree in Physical Education from Lock Haven University of Pennsylvania. I completed coursework and earned a M.S. degree in Exercise Physiology from the University of Illinois Urbana-Champaign in 2005 after beginning the coursework in 1987. Finally, in 2003, I completed a Ph.D. in Kinesiology from Temple University.
AP: Who are your athletic training mentors in New Jersey?
KR: Charlie Thompson
AP: What would you say is your greatest accomplishment as an athletic trainer?
KR: Ability to serve on the Clinical Industrial Corporate committee as District 2 representative and Chairperson.
AP: Where have you been employed and in what capacity?
KR: I am currently employed at Alfred I duPont Hospital – Department of Orthopedics in Wilmington, Delaware as Program Manager – Clinical Research and Sports Medicine. I have been in this role since 2010. I began my career at Alfred I duPont Hospital in 2008 as Senior Clinical Research Coordinator. I began my career at the University of Wisconsin at Platteville as Head Athletic Trainer, Fitness Center Director, and Physical Education Department Instructor from 1985-1987. In between those two bookends of my current career, I worked for the University of Pennsylvania Sports Medicine Clinic, HEALTHSOUTH, Inc., in Philadelphia, Pennsylvania, University of Pennsylvania Health System – Presbyterian Medical Center, Department of Orthopedics, as well as other academic and consultant roles over the years.
AP: What advice do you have for those young professionals in athletic training that are reading this article?
KR: Follow your passion. Also follow the golden rules: Never burn a bridge, Treat everyone like you would want to be treated and never say anything bad about another person.
AP: What feelings did you experience when you were awarded the MDAT award?
KR: I was very humbled and never expected the award. Many people inside and outside the profession have provided support who are part of this award.
AP: One of the requirements for the MDAT award is 20 years of BOC Certification. What do you feel is the key to longevity in the profession of athletic training?
KR: Always learning and striving to become the best person that you can be in the moment.
AP: How do you advocate for athletic trainers and the profession of athletic training?
KR: I always tell people that I am an athletic trainer when I meet in any scenario.
AP: Where do you see the profession of athletic training going in the next 5, 10 or 15 years?
KR: I see the athletic training profession becoming more integrated in the overall healthcare community.
AP: One last question. If you could have dinner with 2 people, dead or alive, who would you invite and why?
KR: Genghis Khan because of his vision and management skills in building his empire. Leonardo da Vinci to understand how a person could be so innovative.
AP: Mr. Rogers, congratulations on receiving the Most Distinguished Athletic Trainer award. Thank you for taking the time to answer these questions for me.
KR: No problem. Thank you for your time.