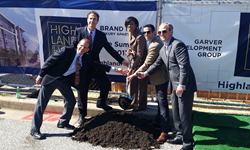 We are thrilled to start Highland Haus, which will be catalytic for Highlandtown
Baltimore, MD (PRWEB) October 11, 2016
On Wednesday October 5th, state and local officials, as well as Baltimore City Mayor Stephanie Rawlings-Blake, joined Garver Development Group, Taylor Property Group and their honored guests to officially break ground on Highland Haus – a new apartment community being developed in Highlandtown near Patterson Park and Canton.
"Taylor Property Group is very pleased to be part of this high quality project, and happy the Mayor was able to join us today. Highland Haus will complement 1212 East, our 57-unit apartment building further south in Canton," said Ross Taylor of Taylor Property Group.
Highland Haus apartments is being constructed on what was formerly the site of Haussner's Restaurant at 3232 Eastern Avenue. Once complete, Highland Haus will be a 6-story building with 65 apartment homes, garage parking, and first floor retail space. The exterior of the building will be a combination of brick, stucco and metal panels, and a mosaic design mural will adorn one of the outside walls of the community.
The apartments will offer a variety of floor plans including studio, one and two bedroom options. High-end finishes will accent the interiors, such as quartz counters, brushed nickel fixtures, ceramic tile floors, and rich wood cabinetry. The community will have multiple amenity spaces including a state-of-the-art fitness center and a rooftop clubhouse with outdoor greenspace and a separate dog walking terrace. There will also be storage for bikes and a pet-washing station.
Located on the southern edge of the Highlandtown neighborhood in Baltimore City, the community is just blocks from Patterson Park, a 137 acre urban park with open fields, large trees, paved walkways, historic battle sites, a lake, playgrounds, athletic fields, a swimming pool, and other signature attractions. The community is also adjacent to Canton, a waterfront area on Baltimore's outer harbor with eclectic shops, retail, and vibrant nightlife.
"We are thrilled to start Highland Haus, which will be catalytic for Highlandtown," said developer Peter Z. Garver of Garver Development Group. "We've removed a structure that stood vacant for nearly 17 years, and are replacing it with a vibrant new building that will help energize the Eastern Avenue main street area."
Highland Haus is scheduled for completion in late summer of 2017. Based on the extremely high interest in the community so far, Highland Haus is likely to be the area's hottest new address. For more information about Highland Haus, visit the community's website at HighlandHaus.com.