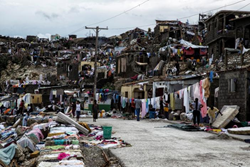 Right now what they need most is financial support to purchase desperately needed food, water, shelter and medical supplies." said VeraData CEO Michael Peterman
Fort Myers, FL (PRWEB) October 11, 2016
VeraData (http://www.veradata.com), a leading decision science firm specializing in assisting nonprofit organizations, on Monday made contributions to two organizations providing relief on the ground in the hurricane-damaged Tiburon peninsula of Haiti. VeraData contributed $1,250 toward critically needed food, water and medical supplies being distributed in the country's southern peninsula to its client Food For The Poor http://www.foodforthepoor/hurricane and an equal amount to Mission of Hope Haiti (http://www.mohhaiti.org/relief), where the daughter and son-in-law of one of VeraData's employees are missionaries. The company also agreed to match employee contributions up to another $1,250 for each organization.
"We came to work this morning grateful that we escaped the hurricane in Southwest Florida but also sobered by the immense destruction it caused in Haiti," said VeraData CEO Michael Peterman. "We have relationships to both these organizations, which have large ministries in Haiti and launched efforts immediately to get help to hundreds of thousands of people who lost everything in the storm. It's a privilege to assist them in whatever way we can. Right now what they need most is financial support to purchase desperately needed food, water, shelter and medical supplies."
Hurricane Matthew ripped across Haiti's southern Tiburon peninsula on October 4 with 145 mph winds, destroying everything in its path and leaving more than 60,000 homeless. Crops, chicken farms and fresh water supplies also were destroyed, resulting in more than one million people now without access to any food or water. Contaminated water is leading to the spread of cholera, which can be fatal in a matter of hours. The only road into the region was washed away, its bridge replaced with a rushing river, so the only way for relief agencies to get supplies into the area is by water or air.
UN Secretary General Ban Ki-moon said Monday that a "massive response" is needed to help Haiti recover from the devastation. Some towns and villages have been completely obliterated and at least 1.4 million people need assistance. The death toll rose above 900 on Monday, with more expected.
Texas-based Mission of Hope and Florida-based Food For The Poor both have large ministry operations in Haiti.
Mission of Hope (MOH) is leading a disaster relief initiative in coordination with over 500 indigenous partner organizations across Haiti through its HaitiOne network. As the storm headed toward Haiti, the organization began preparing to supply hard-hit areas with 35 million meals, 350 million water units, 10,000 homes and medical care for 280,000 patients. It pulled its first barge of supplies into the peninsula's ports on Saturday and has more arriving throughout this week. Within two weeks, Mission of Hope will transition into a 45-day recovery plan and then into a long-term sustainability plan.
Food For The Poor also rushed a barge to the region, delivering nine 40-foot containers of from its Haiti warehouse to Jeremie, a town that was 90 percent destroyed by the hurricane. The shipment included a forklift and a truck that will be used to take the containers to a Food For The Poor distribution site in Jeremie. Containers of bottled water also were sent by generous Food for the Poor supporters in Jamaica.
The VeraData team is encouraging its partners in the direct marketing industry to join them in contributing to the efforts of the two organizations. "It's going to take a massive amount of support to provide food and shelter for these people for the foreseeable future," Peterman said. "We're just taking a small step to do our part and hope that others do the same."
About VeraData
VeraData is a leading decision science firm, organized around a core of deep analytics and machine-learning expertise, with one of the industry's most innovative predictive/prescriptive marketing engines. The firm offers clients a suite of data driven digital and direct marketing and analytic solutions including performance based list and modeling, donor analytics, search engine optimization, list management and list brokerage. Founded in 2007 by several successful entrepreneurs, VeraData's team includes applied and theoretical mathematicians and computer scientists. VeraData currently has approximately 50 employees serving more than 450 organizations in the United States and Europe. VeraData is a Google partner and is recognized in its industry for developing a best-in-class prescriptive analytic technology running on a Tflop (trillions of floating point operations per second) scale. VeraData is based in Fort Myers, Florida, with additional offices in Europe. For more information, call (239) 204-5000 or visit http://www.veradata.com.
About Food For The Poor
Food For The Poor, one of the largest international relief and development organizations in the nation, feeds millions of the hungry poor in 17 countries in the Caribbean and Latin America. The interdenominational Christian ministry also provides emergency relief assistance, clean water, medicine, educational materials, homes, support for orphans and the aged, skills training and micro-enterprise development assistance. More than 95 percent of all donations go directly to programs that help the poor. Food For The Poor is based in Coconut Creek, Florida. For more information, call (800) 427-9104 or visit http://www.foodforthepoor.org.
About Mission of Hope
Mission of Hope is a Christian ministry that has served in Haiti since 1998 and has been a key distribution center in times of crisis dating back to the hurricane of 2008 and the earthquake of 2010. The ministry currently feeds more than 90,000 children a day, educates more than 6,000 students, and treats over 30,000 patients a year in its onsite clinic and weekly mobile medical clinics that go into 11 villages. Mission of Hope has more than 400 full-time Haitian employees and partners with over 500 indigenous organizations throughout the country. The ministry has built more than 800 block homes for displaced families since 2010, and recently opened both a care home for the elderly and a vocational school. One hundred percent of all donations to the hurricane relief page will go to the relief and recovery efforts. Mission of Hope is based in Austin, Texas. For more information, call (512) 256-0835 or visit http://www.mohhaiti.org.