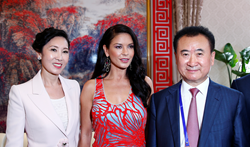 New York, NY (PRWEB) October 12, 2016
Real Big Hits Funding Corporation, a New York-based non-profit, is excited to announce the winners of its first funding contest.
Appreciation goes out to our promotional partners in this contest for their donations: truTV for a cash donation, Deluxe for post-production services, Real Big Hits for promotional services, and Empress Media Asset Management for private cloud portals.
Winners were selected based on originality, creativity, and production/writing quality. Real Big Hits will be screening and sharing information about the contest winners at the upcoming MIPCOM market Oct 17-20 at the Palais des Festivals, Cannes, France Stand P3.B20.
The grand prize will be awarded to Citizen Wang, receiving $17,800 in cash and services. Director Nick Rosen commented, "I could not be more thrilled. This prize will help me tell the inside story of Wang Jianlin and how recent studio deals by his Wanda Group will reshape Hollywood and global media."
The second prize will be awarded to The W Files, receiving $10,300 in cash and services. Producer Robert Sayegh said, "I'd love to thank Wendy and Real Big Hits for the opportunity to showcase our work that we so tirelessly continue to create and produce. The W Files is a show about a paranormal and UFO phenomenon that needs to be told. I'm hoping that with this additional exposure, a network will recognize this need and decide to give us a series deal."
Honorable mentions, each receiving $5300 in cash and services are, alphabetically: Equus in Africa by Executive Producer Katherine Leach-Lewis, Porch Talk by Lynne Scott, and Queens of the Jungle by Producer Stephanie McBain.
Wendy Wang, CEO of Real Big Hits, commented, "It is very exciting to be involved with all of these projects. Hopefully this provides the impetus to get these and other exciting projects finished and publicized."
About Real Big Hits Funding Corporation: Real Big Hits Funding Corporation is a non-profit organization looking to help promote and funding next generation creative talents in the media industry. http://www.realbighitsfunding.com
About Real Big Hits: Empress Intelligence, LLC dba Real Big Hits is a privately held media company, helping creative individuals and organizations fund, license, sell, and distribute their content using a traditional agency approach and through its realbighits.com online marketplace. http://www.realbighits.com
About Empress Media Asset Management: Empress Media Asset Management, LLC provides its eMAM™ platform to help media, broadcast, and other organizations to store, produce, share, distribute, and archive content on premise or in the cloud. http://www.empressmam.com
About Deluxe Entertainment Services Group Inc.
Deluxe is a global leader in digital media and entertainment services across film, video, advertising and online content from capture to consumption. Since 1915, Deluxe has been the trusted partner for the world's most successful Hollywood studios, independent film companies, TV networks, exhibitors, advertisers and others, offering best-in-class solutions in production, post production, distribution, asset and workflow management and new digital solution-based technologies. With operations in Los Angeles, New York and around the globe, the company employs nearly 7,000 of the most talented, highly honored and recognized artists and industry veterans worldwide. http://www.bydeluxe.com