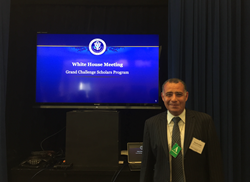 "Our expert faculty and exceptional engineering student body make UB capable of studying and addressing all of the NAE's determined challenges of the 21st century." -Dr. Sobh
(PRWEB) October 25, 2016
The University of Bridgeport announced today its Dean of the School of Engineering and Senior Vice President for Graduate Studies and Research, Tarek M. Sobh, Ph.D., P.E., recently completed his second trip to the White House to brief officials on the current standing of the Grand Challenges for Engineering program. Dr. Sobh also visited President Barack Obama at the White House in March 2015.
Grand Challenges for Engineering is a national campaign initiated by the National Academy of Engineering (NAE) that identifies areas of national concern, including health, alternative energy, sustainability, infrastructure, virtual reality, personalized learning, scientific discovery, and cyber security, and explores innovative engineering solutions for each. Dr. Sobh was among a selection of top deans from engineering schools across the country who attended the White House summit to update lawmakers on the status of the program.
In the spring of 2015, the University of Bridgeport was one of 122 U.S. engineering schools that banded together to present a letter of commitment to the President. Participating schools pledged to each introduce a Grand Challenges Scholars Program that better prepares engineering students to tackle some of the most pressing issues facing society today. UB's Grand Challenges Scholars Program was launched in the fall of 2015 with six accepted students whose majors include Computer Engineering, Electrical Engineering, and Computer Science.
"UB is wholly equipped to host a Grand Challenges Scholars Program," said Sobh. "As the largest graduate engineering program in Connecticut and fastest-growing graduate Biomedical Engineering program in New England, our expert faculty and exceptional engineering student body make UB capable of studying and addressing all of the NAE's determined challenges of the 21st century."
Undergraduate and graduate students accepted to UB's Grand Challenges Scholars Program participate in externally sponsored multidisciplinary research within the Grand Challenge areas, work at start-up companies housed at UB's cutting-edge CTech IncUBator, study and work at international STEM programs with UB's overseas partner universities, and complete a service management and engineering concentration to allow students to effectively apply their technical experiences to societal problems.
Dr. Sobh isn't the first UB affiliate to attend the White House this year. This past spring, President Obama awarded the prestigious National Teacher of the Year Award to UB graduate Jahana Hayes.
To learn more about the University of Bridgeport's Grand Challenges Scholars Program, visit http://www.bridgeport.edu/academics/schools-colleges/school-engineering/research/gcsp/.
About University of Bridgeport
The University of Bridgeport offers career-oriented undergraduate, graduate and professional degrees and award-winning academic programs in a culturally diverse learning environment that prepares graduates for leadership in an increasingly interconnected world. There are 400 full- and part-time faculty members, including Fulbright Scholars, National Science Foundation Fellows, Ford Fellows, National Endowment for the Humanities Fellows, American Council for Learned Societies Scholars, and Phi Beta Kappa Scholars. The University is independent and non-sectarian. For more information, please visit http://www.bridgeport.edu.