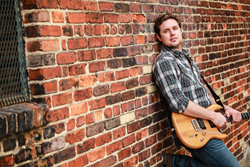 Bill is an enormous threat: virtuosic lead guitarist, terrific pop songwriter, gorgeous singer, and a dashing performer
Nashville, Tennessee (PRWEB) October 27, 2016
Bill Worrell, the lead guitarist for Grammy winning AMERICA band announced today he will be releasing his new original solo EP "The Nashville Sessions" on Tuesday, November 1st. Bill worked with legendary Grammy nominated producer Fred Mollin (America, Kris Kristofferson, JD Souther) on the new solo record of his self-penned original songs. Mollin has produced two albums for AMERICA including "Alibi" and "Back Pages".
"Music City was definitely the inspiration for 'The Nashville Sessions'," says Bill Worrell. "I loved tapping into the creative atmosphere that Nashville offers and I had a blast writing songs and working with producer Fred Mollin. Just like the title of one of the new tracks, it was an incredible 'Ride'!"
"Bill is an enormous threat: virtuosic lead guitarist, terrific pop songwriter, gorgeous singer, and a dashing performer," says Producer Fred Mollin. "You haven't even heard the rest of what he can do which includes highly progressive instrumentals and songs. I look forward to the next chapter when I can work with him as he shows that other side as well."
Bill Worrell is best known as the touring lead guitarist for the Grammy-winning classic rock group AMERICA. Originally from Pasadena, CA he currently lives in Nashville and is an accomplished classically trained guitar player. Founding AMERICA members Dewey Bunnell and Gerry Beckley refer to the young guitarist as a prodigy. Bill is a songwriter, producer, and plays multiple instruments including drums, keys, vocals, bass and guitar. Bill grew up in the music industry and says his earliest memories are watching Natalie Cole perform onstage – alongside his father, Jeff Worrell, her lead guitarist. Bill spent summers touring alongside his father with incredible rock stars Pat Benatar, Edgar Winter, and Fleetwood Mac where his father was FOH Engineer and Tour Manager.
As the lead guitarist for AMERICA, Bill has had the pleasure of sharing the stage and touring alongside Chicago, Peter Frampton, The Beach Boys, Three Dog Night, Greg Allman, Christopher Cross, Michael McDonald and many more musical legends.
"The Nashville Sessions" is an original EP collection of songs written by Bill Worrell (ASCAP) with co-writer Molly Rocklind on the first single "Ride", as well as the Beatles-inspired song "She". Toto drummer Shannon Forrest and Michael McDonald's keyboard player Pat Coil make guest appearances performing on the new EP.
"The Nashville Sessions" (Distrokid Records / 9th Street Apt Music) EP track listing includes:
Introduction (Transitions)
You Don't Care
Ride
I Wanna Fly
She
You Got Me
Days Prologue
Days
Musicians on "The Nashville Sessions" include:
Bill Worrell, Electric & Acoustic Guitars, Lead Vocals, Additional B3
Pat Coil: Piano & Keyboards
Larry Paxton: Bass
Shannon Forrest: Drums & Percussion
Additional Musicians:
Molly Rocklind: Background Vocals
Fred Mollin: Additional Keyboards, Additional Percussion, Banjo, Merlin
Kerry Marx: Electric Guitar on "You Got Me"; Electric 12-string & Acoustic Guitar on "She"; Acoustic Guitar on "Days Prologue"
"The Nashville Sessions" EP will be available on Amazon and iTunes.
Weblinks: http://www.BillWorrellOfficial.com / http://www.twitter.com/BillWofficial / http://www.instagram.com/billworrellmusic/ https://www.facebook.com/BillWorrellOfficial/
To arrange press interviews with Bill Worrell, contact Publicist Elizabeth (Liz) Motley at LizMotley(at)me(dot)com.
###
Suggested Tweet: NEWS! .@americaband guitarist @BillWOfficial to release new #NashvilleSessions EP w/bonus tracks 11/1! BillWorrellOfficial.com