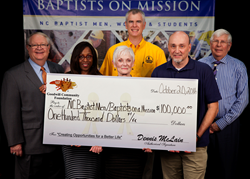 Durham, NC (PRWEB) October 27, 2016
Goodwill Community Foundation (GCF) donated $100,000 toward disaster relief and recovery efforts for those in eastern North Carolina devastated by Hurricane Matthew. GCF partnered with N.C. Baptist Men/Baptists on Mission (NCBM), a ministry of the Baptist State Convention of North Carolina, to help victims of the hurricane.
"This generous donation by the Goodwill Community Foundation will go a long way in helping us serve those individuals and families who have been impacted by Hurricane Matthew," said Richard Brunson, executive director of N.C. Baptist Men/Baptists on Mission. "The Goodwill Community Foundation has been a longtime supporter of our various ministries, and we are thankful that we can partner together once again during this time to assist many here in North Carolina who are in need as a result of the storm."
"Making this decision was easy based on our relationship established over the many years in partnership helping those in need during disasters," said Rev. Dennis McLain, president and CEO of Goodwill Community Foundation. "N.C. Baptist Men are there, boots on the ground, with volunteers and focused attention on the communities while the disaster is happening and afterwards during the recovery."
Thousands of homes and people were affected by the hurricane. This donation demonstrates GCF's mission to "Create Opportunities for a Better Life" for those in need of food, shelter and disaster relief over the time it will take for families and communities to recover. GCF's donation will help with recovery efforts in Fayetteville, Lumberton, Kinston and many other locations. All of the funds from the donation will go directly toward disaster relief and recovery efforts.
"Our relief and recovery efforts related to Hurricane Matthew will continue for weeks, months and even years," said Gaylon Moss, disaster relief coordinator for N.C. Baptist Men/Baptists on Mission. "This gift from the Goodwill Community Foundation will help us continue to minister and serve well into the future in those communities that have been devastated by the storm."
According to Rev. McLain, "Universally, the difference between what they do and what other charities do is that they go in and empower the community. They shop locally. They make the opportunity for local communities to sustain themselves and build themselves and that's part of our criteria for giving."
About Goodwill Community Foundation (GCF®)
Goodwill Community Foundation (GCF®) continues to be a leader in an era of change by providing the training required for the emerging world where technology is integrated into everyday life. The GCF Community Foundation, a Durham-based tax-exempt organization, provides employment, fresh produce and volunteer opportunities, family services for parents with children with disabilities and free accounting services to youth programs across eastern North Carolina. All GCF programs are funded through revenue generated from the value of donated items to 40 Goodwill Community Foundation stores throughout eastern North Carolina. For more information on GCF®, visit http://www.GCFGlobal.org.
About N.C. Baptist Men/Baptists on Mission (NCBM)
N.C. Baptist Men/Baptists on Mission (NCBM) is an auxiliary of the Baptist State Convention of North Carolina (BSCNC). Disaster relief is one of 17 different ministries of NCBM, whose goal is to help churches involve their members in missions and ministry. For more information on NCBM, visit http://www.baptistsonmission.org.
-###-
FOR MORE INFORMATION CONTACT:
Stephenie A. McLean
Goodwill Community Foundation
Director of Regional Community Development for GCF
919-451-5943 smclean(at)goodwillenc(dot)org