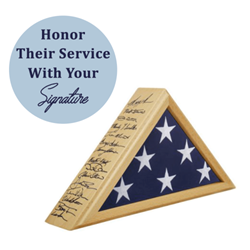 We wanted to create a flag case that was truly unique and personal, as well as be consistent with our high quality flag, flagpole and lighting manufacturing standards. The case is made of solid beechwood, sealed with high-gloss clear coating, and features
Atlanta, GA (PRWEB) November 21, 2016
The Capitol Signature Flag Case is an exciting new product presented exclusively by The Flag Company, Inc., and just in time for Christmas. Sensitively priced, The Capitol Flag Case is a way to express memorial prayers for those who have served and fallen, or for best wishes on such special occasions as retirement or congratulations on a promotion,
According to Mike Lawrence, Vice President of The Flag Company, Inc., "We wanted to create a flag case that was truly unique and personal, as well as be consistent with our high quality flag, flagpole and lighting manufacturing standards. The case is made of solid beechwood, sealed with high-gloss clear coating, and features a glass front, removable back panel and turn-button closures." Mr. Lawrence added, "It even comes complete with Sharpie pen."
The Capitol Signature Flag Case is immediately ready to ship via UPS, and can be conveniently ordered online and in time for Christmas.
About The Flag Company, Inc. and The Christmas Shop
The holidays are when The Flag Company, Inc. really shines with its commitment to this very special time of the year. The recurring seasonal success of The Christmas Shop, as well as products such as The Capitol Signature Flag Case, are indicative of the commitment The Flag Company, Inc. has made to being responsive to the topical needs of the flag and flagpole industry, and being at the forefront of its web commerce.
Since its founding over 25 years ago, The Flag Company, Inc. has strived to streamline the buying process for consumers, businesses and industry professionals alike, making it as seamless and effortless as possible. As the largest online supplier of flags and flagpoles, The Flag Company, Inc. established its first success as the originator of the iconic Farming Flags®. Since then, The Flag Company, Inc. has led the industry with such products as its patented Flagpole Beacon for its Illuminator Series flagpoles, and for single sale retrofits, as well as Homesteader Tapered Poles and Solar Beacon Packages.
Catering to eighteen distinct categories of customers, The Flag Company, Inc. provides an extensive inventory of over 6,500 items. The Flag Company, Inc. now also partners with a dedicated machine and manufacturing company, expanding its capability to provide custom brackets, finials, hardware and other similar products for special orders. Additionally, The Flag Company, Inc. is collaborating on pioneering robotic equipment for use in the flagpole industry.
Thriving on special and challenging projects, The Flag Company, Inc.'s resumé includes highpoints such as flagpoles for Georgetown University in Qatar, the Spiral Rotonde at Aruba International Airport, Dow Chemical Headquarters in Michigan, and the 1996 Centennial Olympics in Atlanta, GA., among many others.
Especially at this time of year, The Flag Company, Inc. celebrates over 25 years of providing excellent products and customer service, and appreciates all its loyal customers and hard-working employees as it looks forward to many more Christmas seasons.
Besides flagco.com, and it's Christmas Shop page, The Flag Company, Inc. has developed several websites targeting its varied and diverse customer base, including http://www.flagpolewarehouse.com, valley-forgeflag.com, feelgoodlightups.com, toothpickflag.com, and digitalprintingservice.net