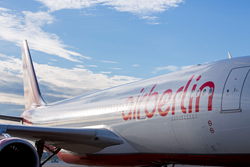 (PRWEB) November 08, 2016
Travel to Europe with airberlin
airberlin is offering fares from $599 including all taxes and surcharges to many destinations throughout Europe until and including November 14, 2016. Business class tickets are available from $2299 including all taxes and fees during the special offer.
Flights are available for example from Miami to Copenhagen to experience the Danish capital or from Chicago to Krakow and Warsaw to enjoy Polish traditions and history. Many other routes are included such as Los Angeles to Florence and New York (JFK) to Budapest.
Included in the transatlantic service is free baggage allowance which includes one item of baggage weighing up to 23 kg, in economy class or two bags weighing up to 32 kg in business class. In-flight service includes meals, beverage service throughout the flight and complimentary amenity kits for overnight flights.
Fares offered are valid for travel from January 11 through June 30, 2017 and in business class from December 1, 2016 through March 31, 2017. Fares vary depending on departure city and final destination. Certain rules and restrictions apply.
Tickets can be booked at https://www.airberlin.com, through the service center at 1(917) 261-3165 (local rate) or through a travel agent.
About airberlin
airberlin is one of the leading airlines in Europe and flies to 131 destinations worldwide each year. The second largest airline in Germany carried more than 30.2 million passengers in 2015. airberlin offers a global route network through its strategic partnership with Etihad Airways, which has a 29.21 per cent share in airberlin, and through membership of the oneworld® airline alliance. topbonus, the frequent flyer programme of airberlin, is one of the leading programmes in Europe with more than 4 million members. The airline with the award-winning service operates codeshare flights worldwide with 23 airlines. The fleet is among the most modern and eco-efficient in Europe. Together with other airlines, airberlin belongs to Etihad Airways Partners, a new brand with which Etihad has been uniting shared activities since the end of 2014.
Press contact:
Janina Mollenhauer
Press Officer
Tel.: +49 30 3434 1500
Fax: +49 30 3434 1509
E-mail: janina.mollenhauer(at)airberlin(dot)com
http://www.airberlin.com
On behalf of airberlin
Madeleine Vogelsang
Media Relations Representative USA & Canada
Phone: 1-917-971-6213
Email: mvogelsang(at)zcomgroup(dot)org