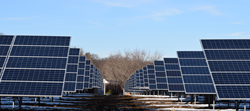 Brookfield Wire has been a long-time supporter of the local community, and is always seeking ways to improve its customers experience. Using clean power and dramatically reducing our operating costs is therefore a win-win for us
Brookfield, MA (PRWEB) December 01, 2016
Brookfield Wire, established in 1947, is a leading supplier of high quality cold drawn metals whose 40 acre campus is now powered by the sun. Brookfield has always put its customers first, and lowering costs while greening its operations is just another way of executing the company's mission.
"Brookfield Wire has been a long-time supporter of the local community, and is always seeking ways to improve its customers experience. Using clean power and dramatically reducing our operating costs is therefore a win-win for us," said Wayne Lussier, General Sales Manager of Brookfield Wire.
"Massachusetts is a leading supporter of the solar industry, helping its companies hedge against rising energy costs. Brookfield Wire saw the advantages of on-site solar, and has worked with Dynamic to deploy one of the larger industrial solar assets in the state," said Mike Perillo, CEO of Dynamic Energy, "this 40+ year asset will be generating value for them for decades to come."
The 2 megawatt solar array is large enough to provide power to over 300 homes. Dynamic Energy provided all development and construction services, helping to maximize the project's long-term value through value-engineering and incentive capture.
About Brookfield Wire
Brookfield Wire is a leading supplier of cold drawn stainless steel, nickel and nickel alloy wire.
Brookfield Wire's stainless steel and nickel alloy products are manufactured to the highest industry standards in a broad range of chemistries, sizes, tempers, and finishes. In addition to the standard products outlined below, Brookfield Wire can produce special products meeting rigid individual customer requirements. The plant, located on a 40 acre site in Brookfield, Massachusetts, was founded in 1947, and contains approximately 70,000 square feet of manufacturing area.
About Dynamic Energy Solutions, LLC
Dynamic Energy is a turnkey energy solutions provider that develops, finances, engineers, constructs and operates projects for corporate, industrial and institutional customers. Dynamic builds energy projects that reduce customer expenses, improve operating efficiency, provide an attractive return on investment and achieve sustainability goals. For more information please visit http://www.dynamicenergyusa.com or call 1-877-809-8884.