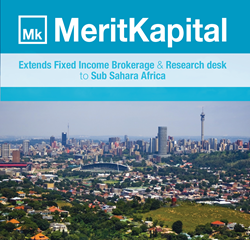 (PRWEB) December 06, 2016
MeritKapital Ltd wishes to announce an expansion of its fixed income desk into Sub-Sahara Africa. Specifically, some of the countries covered include Egypt, Ghana, Ivory coast, Kenya, Mozambique, Nigeria, Senegal, South Africa and Zambia amongst others.
Post the US elections, President Elect Donald Trump's expected focus on tax cuts and higher infrastructure and defence spending has led to an outflow of funds from the fixed income asset class and into that of equities. The planned fiscal stimulus has set expectations of a faster monetary tightening by the US Fed which should strengthen the US dollar and put pressure on emerging markets, most of which largely depend on external financing.
However, there have arisen some positive developments, as valuations are correcting to more attractive levels and as opportunistic yields may be filtered within solid issuers particularly ones with shorter tenors. The latter variable mitigates price volatility resulting from a forthcoming and progressive tightening monetary policy of the US Fed.
From a strategic perspective, the firm aims to continue to strengthen its foothold within the emerging market, fixed income periphery and to establish a niche amongst global industry players. It plans to pave its way towards this trajectory by expanding into less saturated markets, by hiring local and well networked talent, by rendering a service that is a derivative of brokerage but also of research, and by maintaining a very client centered service approach to business.
MeritKapital continues its focus on Russia and the CIS countries where the latter predominantly includes Kazakhstan, the Ukraine, Belarus and Azerbaijan. Similarly, its geographical niche remains its talented workforce hired locally from the areas of focus, its local network of end clients, the firm's relationships with large buy side funds of western capital markets and its resultant ability to connect such east to west type of flow. Together with its affiliate companies, Meritservus and DI Ross, it is especially well positioned in the region given a consolidated network of clients and affiliates developed over a significant timeframe.
Please contact info(at)meritkapital(dot)com for any client interest you may have in MeritKapital's offered services.