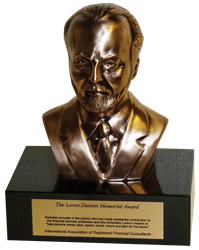 These people represent the brightest and most successful consultants in our profession...Dunton Committee Chair H. Stephen Bailey, RFC
Middletown, OH (PRWEB) December 14, 2016
Generally regarded as the "Father of Financial Planning", Loren Dunton organized financial professionals in the late sixties and with their help created the financial planning movement. Loren Dunton developed associations, magazines, colleges, university programs and foundations. He was able to use his experiences to frankly explain what all financial advisors now recognize - that the ethical sales of financial products and the delivery of competent advice is a noble calling. Loren Dunton was a man of vision who cared deeply about both financial consultants and consumers.
With nominations closed as of November 30th, the list of distinguished financial consultants reads:

Erin Botsford, Botsford Financial Group – Frisco, TX;
Elissa Buie, Yesk Buie Live Big – Vienna, VA;
Kim Ciccarelli Kantor, Ciccarelli Advisory Services, Inc. – Naples, FL;
Monroe Diefendorf, 3 Dimensional Wealth Advisory LLC – Locust Valley, NY;
Fredric Edelman, Edelman Financial Services LLC – Fairfax, VA;
Harold Evensky, Evensky & Katz/Folds Financial Wealth Management – Lubbock, TX;
Marvin Feldman, Feldman Financial Group – Palm Harbor, FL;
William Gustafson, Texas Tech University – Lubbock, TX;
Leroy Hayes, Hayes Insurance/Investment Agency – Houston, TX;
James Moss, Money Concepts – Indianapolis, IN;
Rosilyn Overton, Mid-Atlantic Securities, Inc. – Great Neck, NY;
Lee Pennington, Pennington, Bass & Associates – Lubbock, TX;
Tom Potts, Baylor University – Waco, TX;
Simon Singer, The Advisor Consulting Group – Encino, CA;
Robert Springer, FSC Securities Corporation – Allentown, PA;
Rick Stanzione, R&R Group, Inc. – Washington Terrace, UT.
"We are very pleased with the number of nominations this year," related Dunton Committee Chair H. Stephen Bailey, RFC®. "These people represent the brightest and most successful consultants in our profession – it is a very difficult decision."
The 2017 recipient will be decided at the end of the year with a presentation time and location to be announced early 2017. For more information on the award, go to IARFC website – Loren Dunton Memorial Award.