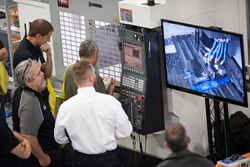 Charlotte, NC (PRWEB) December 15, 2016
Okuma America Corporation, a world leader in CNC machine tool manufacturing, hosted more than 400 customers, partners and distributors at their annual 2016 Technology Showcase on December 6 -7 in Charlotte, North Carolina.
The theme of this year's event, "Get Connected. Put IIoT to Work for You," included learning sessions about connecting the CNC machine shop floor and using real-time data to empower decision makers. Through the power of IIoT, attendees were immediately able to view on one screen the machine status, specs and real-time cutting video of multiple machines at the Partners in THINC facility and Okuma headquarters.
Real-time data enhances the manufacturing process and improves workflow and productivity. These benefits raise efficiencies, expand manufacturing capabilities and increase profits.
Participants also viewed cutting demonstrations on more than 20 machine tools and were educated on breakthrough technologies that can give them a competitive edge. Attendees also learned how Okuma's open OSP contro l and OSP suite allow each user to customize the OSP experience to specifically address their unique manufacturing needs.
Technology Showcase Highlights

Smart Tool - This innovative tool developed by Velocity Briney comes with a dashboard of pre-determined speeds and feeds from tap testing performed on Okuma mills and eliminates guesswork to achieve maximum production.
Game-Changing Technology- The MULTUS U4000 multi-function lathe featured several groundbreaking technologies that are now available on Okuma's high tech mill-turn machines. Turn-Cut, B-Axis Turning, laser and tool breakage system, and touch probe part inspection showcased the next leap in technology by combining multiple operations and hard to machine geometries in one easy setup. The MULTUS platform provides the ultimate in flexibility and utilization.
Titanium Machining- Okuma and partner 5ME demonstrated the benefits of machining complex 5-axis, aerospace parts on titanium with cryogenics for the aerospace industry. Higher surface footage and longer tool life are achieved when machining exotic materials with cryogenics.
Automated Measuring- Partners in THINC partners, Autonetics and ABB, joined forces to demonstrate automated laser thread inspection, which fully automates measuring methods. Inspection data is fed directly to the control so decisions and adjustments can be made automatically without operator intervention.
Enhanced Machine Leveling – New technology enhancements from Tru-Lign level CNC machine tools in a matter of minutes. This technology was displayed on Okuma's LB-3000EXMY lathe as it was lowered to the floor and leveled in a matter of minutes.
For more information on Okuma's machine tool lineup visit http://www.okuma.com/cnc-machine-tool-lineup.
About Okuma America Corporation
Okuma America Corporation is the U.S.-based sales and service affiliate of Okuma Corporation, a world leader in CNC (computer numeric control) machine tools, founded in 1898 in Nagoya, Japan. The company is the industry's only single-source provider, with the CNC machine, drive, motors, encoders, and spindle all manufactured by Okuma. The company also designs their own CNC controls to integrate seamlessly with each machine tool's functionality. In 2014 Okuma launched the Okuma App Store, the industry's only centralized online marketplace for machine tool apps and related content. Along with its extensive distribution network (largest in the Americas), and Partners in THINC, Okuma is committed to helping users gain competitive advantage through the open possibilities of machine tools, today and into the future. For more information, visit http://www.okuma.com/americas or follow us on Facebook or Twitter @OkumaAmerica.
###