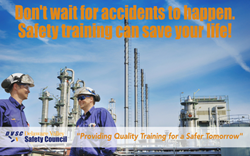 Have every worker return home safely from work every day.
Swedesboro, New Jersey (PRWEB) December 23, 2016
The Delaware Valley Safety Council seeks to provide world-class safety training to contractors and employees working in industrial facilities in Delaware, New Jersey and Pennsylvania. DVSC continually adds best-in-class training programs to meet the safety-training needs of diverse industrial environments. DVSC's ultimate goal is to have every worker return home safely from work every day.
OSHA 10 and OSHA 30 are two of DVSC's top courses that are offered in both proctored and web-based formats. OSHA 10 consists of 2 days and 10 hours total, while OSHA 30 consists of 4 to 5 days and 30 hours total. These courses are both proven in making an impact in the world of workplace and occupational safety as employers who have trained their workers with the OSHA Outreach Program for Construction have seen reductions of up to 66% in lost-time injuries. Both courses are intended to provide instruction on a variety of general construction safety and health standards including proper PPE, recognizing general and specific safety hazards at any job site, identifying safe electrical work processes as well as learning how to prevent falls and avoid workplace injuries. By learning how to foster the development of safe practices in the workplace as well as on the job site, OSHA 10 and OSHA 30 participants can understand how to operate under certain hazards, avoid injuries and of course to prevent fatalities!
The Delaware Valley Safety Council holds these two courses at our facilities in Swedesboro, NJ and in Newark, DE, as well as in web-based formats through our partnership with AdvanceOnline Solutions.
To register for OSHA 10 or OSHA 30 or to gain more information please visit our website at http://dvsconline.org/public/osha-10-30-hour/ and always remember to think and stay safe!
The Delaware Valley Safety Council
510 Heron Drive, Suite 210
Swedesboro, NJ 08085