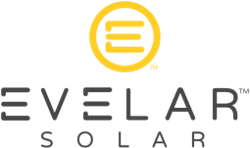 Evelar's retail concept disrupts the traditional way consumers have purchased solar by offering a new outlet for evaluating solar without the hassle or worry of a sales representative coming to their home for a high-pressure sale
Salt Lake City, Utah (PRWEB) December 23, 2016
Evelar Solar's retail location, the first of its kind for the residential solar market, is intended to both raise awareness of the cost savings available through solar, and to provide consumers an opportunity to review and select from Evelar Solar's unique pricing model. Evelar Solar offers four packaged solar prices that start as low as $49 per month, depending on the home's current power consumption. Each pricing plan is intended to offset the consumer's typical monthly power bill by amounts equal to or greater than the cost for solar, representing a net gain for homeowners.
"One of the biggest barriers for consumers looking at solar is that other companies typically require an 'in-home' appointment to purchase solar," said Spencer Angerbauer, CEO and co-founder of Evelar Solar. "Evelar's retail concept disrupts the traditional way consumers have purchased solar by offering a new outlet for evaluating solar without the hassle or worry of a sales representative coming to their home for a high-pressure sale. Consumers are able to interact directly with the solar technologies first hand at our retail location and, more importantly, are able to purchase a solar plan in five minutes or less, similar to buying a cell phone or wireless plan."
Angerbauer explained that Evelar Solar uses a variety of proprietary technologies to instantly analyze and recommend a customized configuration for every homeowner, which is designed to replace up to 100 percent of the homeowner's existing utility bill with a lower, fixed-cost solar payment. Evelar Solar's retail location is an expansion of the company's philosophy of removing the complexity of the solar sales experience. "Too often we find solar is overly complicated by other companies and perceived as too expensive by consumers," stated Angerbauer. "Through Evelar Solar's first true retail solar sales location, we hope to show consumers how affordable and simple solar is by offering monthly packages that start as low as $49 per month."
As part of the holiday season grand opening celebration, Evelar Solar is holding daily raffles and incentives, including raffling brand-new, drivable, kid-sized Tesla Model S toys from Radio Flyer and offering customers "Solar Santa" cash gift cards of up to $1,000 for holiday shopping. The incentives are available through December 31st, 2016. Consumers are encouraged to visit Layton Hills Mall this holiday season or visit Evelar.com to contact an Evelar Solar representative for further details.
About Evelar Solar: Evelar Solar is located in Salt Lake City, Utah, and is one of the fastest growing residential and commercial solar companies in the Intermountain West. Since 2010, Evelar has focused on providing easy, affordable, and money saving solar solutions by using a no-pressure sales force equipped with a proprietary four-step process and savings calculator app. For more information about Evelar Solar, please visit http://www.evelar.com or call 801-203-0303.