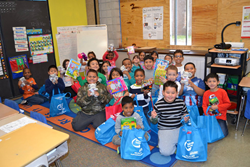 One of our company's biggest goals is helping out our local communities and giving back
New Bedford, MA (PRWEB) January 12, 2017
ProGroup Contracting, a nationally recognized contracting company, is joining the New Bedford community and already making their mark. Starting on December 5, 2016 they began the build-out and construction of the building that was home to the Patnaude Aquarium which they will occupy upon completion. While work is being done to improve this building they also are working to refurbish the landmark sign that resides in front of it, as well as becoming involved in the community by making an impact on the students and teachers of Gomes Elementary School.
Late last fall, six teachers at Gomes Elementary School were provided with a "wish-list" of exciting items that they would like for their classrooms. These items included beanbag chairs, whiteboards and corkboards, musical instruments, coloring books and markers, games, reading books and more! In working with the Marion institute of Marion, MA, Progroup was able to identify the classrooms in the community that were in need of some extra holiday cheer. In addition to providing these classrooms with tools to enrich the learning experience, ProGroup also delivered holiday gift bags to 102 first grade and special education students that were deemed to be from households living below the poverty line.
"One of our company's biggest goals is helping out our local communities and giving back" stated, Courtney Tamulevich, V.P. of Marketing & Customer Experience for ProGroup Contracting. "We have been working with the Marion Institute for nearly five years helping with their GROW Education program and donating much needed supplies and gifts to local schools in New Bedford, MA as well as other surrounding towns. We are excited to continue this positive relationship for many years to come. We are also looking forward to completing the restoration project of our new property, and we cannot wait for the city to see the end results!"
ProGroup Contracting has been spreading the holiday cheer to classrooms for the past five years and hope to continue with it in the future as a part of their ongoing community outreach initiative.
About ProGroup Contracting, a licensee of CertaPro Painters National Account Services:
Based in New Bedford, Massachusetts, ProGroup Contracting (a licensee of CertaPro Painters) is a national painting and surface repair company since 1992. The company provides a wide range of services. Specializing in paint, ProGroup Contracting also offers Power Washing, EIFS & Stucco, Staining, Drywall Repair, Floor Coatings, Wall and Surface Protection, Roof Coatings and Complete Renovation Services. For more information on careers and services offered by ProGroup Contracting, visit http://www.progroupcontracting.com.