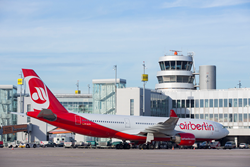 (PRWEB) January 10, 2017
airberlin offers special deals to Europe from the U.S.
airberlin to increase frequencies by up to 50 per cent starting in May
airberlin Germany's airline which flies nonstop from Boston, Chicago, Los Angeles, Miami, Fort Myers, New York, San Francisco and - as of May – Orlando to its German hubs Berlin and Dusseldorf offers special deals from all of its U.S. gateways until and including January 16th, 2017. Destinations offered include cities throughout Austria, France, Germany, Italy, the Nordics, Switzerland and Eastern Europe.
Fares are available from $499 including taxes and most fees based on roundtrip travel to European routes for travel periods from February 1st through June 15, 2017 in economy class and from $2499 from April 1st through June 30th in business class.
airberlin also offers free stopovers in its two major international hubs Berlin and Dusseldorf giving its passengers added convenience when planning a European vacation.
The flights can be booked online at http://www.airberlin.com, via travel agents or by calling the airberlin Service Center at (917) 261-3165 (local rates apply).
About airberlin
As one of the largest European network airlines, airberlin focuses on high frequency flights throughout Germany and connections from many leading European cities to its hubs Berlin-Tegel and Dusseldorf. From its hubs airberlin also operates long-haul routes to the USA, the Caribbean and the Middle East. The airline flew more than 30.2 million passengers in 2015 and operates one of Europe's most modern and eco-efficient fleets. airberlin is part of the oneworld© airline alliance, a founding member of Etihad Airways Partners and a strategic partner of Etihad Airways, which holds 29.21 per cent of airberlin's shares. More than four million travellers are member of airberlin's topbonus loyalty programme.
Press contact
Janina Mollenhauer
Press Officer
Tel: +49 30 3434 1500
E-mail: janina.mollenhauer(at)airberlin(dot)com
http://www.airberlin.com
On behalf of airberlin
Madeleine Vogelsang
Media Relations Representative USA & Canada
Phone: 1-917-971-6213
Email: mvogelsang(at)zcomgroup(dot)org