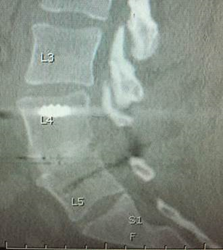 The next-generation interbody-fusion devices made from PEEK-OPTIMA HA Enhanced polymer, provided clinical and radiographic results as good as or better than traditional PEEK interbody devices, with consistently good outcomes at early time points.
Thornton Cleveleys, UK (PRWEB) January 17, 2017
Early clinical results presented by surgeons at the 2016 annual meeting of the North American Spine Society (NASS)1 demonstrate high fusion rates at 6 months and beneficial clinical outcomes, for patients in the majority of cases, when PEEK-OPTIMA™ HA Enhanced is used for interbody-fusion devices. The implantable high-performance polymer, from Invibio Biomaterial Solutions, uniquely combines PEEK-OPTIMA, the principal PEEK-based biomaterial with over 15 years of proven history in clinical use, and hydroxyapatite (HA), a well-known osteoconductive material that enhances bone apposition, and is fully integrated.
Previous studies by Invibio have highlighted that enhancing bone apposition on all surfaces of an interbody-fusion device may offer better integration and improved potential for spinal fusion. "The findings on first clinical cases for PEEK-OPTIMA HA Enhanced presented at the NASS 2016 annual meeting are demonstrating the Invibio goal of providing solutions that have the potential to improve clinical outcomes and advance bone apposition in interbody-fusion procedures2," said John Devine, Invibio Medical Business Director. "In addition, the results presented confirm that the partnerships we have forged with device manufacturers and surgeons are pioneering approaches that are leading to positive results for patients."
Lumbar spine fusion with PEEK-OPTIMA HA Enhanced device.
During NASS, Timothy Bassett, MD, of SouthEastern Spine Specialists, Tuscaloosa, AL, presented his 'Early Clinical Experience with a PEEK-OPTIMA HA Enhanced Device for Lumbar Fusion'. The 1-2 level TLIF (Transforaminal Lumbar Interbody Fusion) procedure utilized the EVOS HA Device, from Cutting Edge Spine, intended for use in skeletally mature patients with Degenerative Disc Disease (DDD) of the lumbar spine, plus autograft bone with posterior instrumentation. No biologics were used in this series of nine patients.
The clinical results were evaluated for pain on the Visual Analogue Scale (VAS), opiate usage, neurological function, re-operations and complications. Fusion results were evaluated using anteroposterior (AP) and lateral X-rays at six weeks and 12 weeks, and a CT scan at six months. Dr Bassett concluded, "Very rapid visible bone fusion occurred in the interbody region in six weeks, according to plain radiographs, with correspondingly good clinical results including no neurologic consequences beyond 6 weeks, no implant migrations, no subsidence, and no pseudoarthroses. More importantly, 9/10 fusions were definitively solid on 6 month CT scan with autograft bone, despite some challenging patients. The one that didn't show complete fusion was progressing to fusion and used one pack of tobacco daily, both pre- and post-operative, contributing to the fusion challenge.
Cervical interbody fusion: Promising results regarding pain and neurological function
Brad Prybis, MD at Carrollton Orthopaedic Clinic, Carrollton, GA, assessed use of the Talos®-C (HA) Cervical Interbody Fusion Device, from Meditech Spine, in patients who underwent 2-3 level anterior cervical discectomy and fusion (ACDF). Clinical (pain and neurological function) and radiographic outcomes were assessed at six months post-operatively.
Arm pain was resolved in all 8 patients; in 5/8 patients neck pain was resolved and improved in 7/8 patients. Furthermore, all 8 patients demonstrated improved neurological function, with residual numbness in 3/8, and residual weakness in 1/8 patients. 17/17 levels were fused 6 months post-operatively.
Commenting on the findings, Dr Prybis said, "The Talos-C (HA), a next-generation interbody-fusion device made from PEEK-OPTIMA HA Enhanced polymer, provided clinical and radiographic results as good as or better than traditional PEEK interbody devices, with consistently good outcomes at early time points we are looking forward to the results of further clinical studies."
PEEK-OPTIMA HA Enhanced biomaterial offers all the clinical advantages of PEEK-OPTIMA Natural including a modulus similar to cortical bone, reduced stress shielding and artifact-free imaging that allows for clear fusion assessment. Developed by Invibio, a leading provider of biomaterial solutions, this innovative high performance polymer for spinal fusion implants eliminates the extra processing time and expense of alternative bone on-growth technologies, such as coatings. Implant devices made of the novel PEEK-OPTIMA HA Enhanced have already been cleared by regulatory bodies in both the US (FDA 510(k) clearance) and Europe (CE mark approval).
For more information about PEEK-OPTIMA HA Enhanced, please visit http://www.invibiospine.com
References
1. NASS (North American Spine Society) 2016 Annual Meeting, Boston, MA, October 26 to 28, 2016. Over 3,400 registered members attended.
2. Study evaluated the in vivo response to PEEK-OPTIMA Natural, PEEK-OPTIMA HA Enhanced and allograft in a cervical spine fusion model in sheep. Data are on file at Invibio. This has not been correlated with human clinical experience.
The case study data and testimonials presented here have been provided by practicing orthopedic surgeons. Their views and experiences are their own and do not necessarily reflect those of others. "Invibio" disclaims any liabilities or loss in connection with the information herein.
INVIBIO™, PEEK-OPTIMA™, INVIBIO BIOMATERIAL SOLUTIONS™ are trademarks of Victrex plc or its group companies.
EVOS-HA is a registered trademark of Cutting Edge Spine.
TALOS®-C (HA) is a registered trademark of Meditech Spine, LLC.
About Invibio Biomaterial Solutions
Invibio, a Victrex plc company, is a global leader in providing high performance biomaterial solutions to medical device manufacturers. The company provides PEEK-OPTIMA™ polymers, advanced technical research and support and manufacturing of components for spine, trauma and orthopaedic medical segments for the development of long implantable medical devices. Today, Invibio's PEEK-OPTIMA™ polymers are used in more than five million implanted devices worldwide.
About Victrex
Victrex, headquartered in the UK, is an innovative world leader in high performance polymer solutions focused on the Aerospace, Automotive, Electronics, Energy and Medical markets. Every day, millions of people rely on products or applications which contain our polymers, from smartphones, aeroplanes and cars to oil & gas operations and medical devices. With over 35 years' experience, we are delivering leading edge solutions to shape future performance for our customers and our markets, and to drive value for our shareholders. Find out more at http://www.victrexplc.com