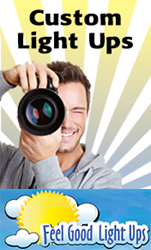 Our light lenses are a simple yet powerful method for expanding your corporate visibility
Atlanta, GA (PRWEB) January 19, 2017
Many companies have worked hard to establish itself as among the best in their industry. They're proud of what they have accomplished and for what they have become known for. So why settle for the same old methods of promoting corporate brand?
Feel Good Light Ups, a division of The Flag Company, announces the introduction of corporate-themed offerings in its popular line of light lenses. It's light lenses are a simple yet powerful method for expanding corporate visibility. Use Feel Good Light Ups' light lenses to highlight company logo, announce new products or services, or advertise company specials and features and take any companys advertising in a bold, new direction. Flexible and versatile, they can be used in a standard fluorescent lighting fixture or in a variety of available frames and are sure to create a lasting impression with target audience and set company apart from the competition. Professional and stylish, they are a welcome addition to any front office, conference room, or workspace environment as well as at tradeshows and public advertising spaces.
Each company is unique and special. Feel Good Light Ups light lenses are a unique and special way to advertise company brand.
Feel Good Light Ups also offers corporate-themed floor graphics and window clings.
Feel Good Light Ups' custom sales and graphic arts departments are available to meet every need of company or to assist them in getting started. Visit http://www.feelgoodlightups.com for product and ordering information.
Light Ups light lenses created, printed, and shipped from Feel Good Light Ups' warehouse in Acworth, Ga
About Us
Feel Good Light Ups is a division of The Flag Company, Inc, which began in 1989 and has grown into the largest distributor of American Flags in the United States. Feel Good Light Ups also offers State, international and custom flags, and Toothpick Flags. Located in Acworth, Georgia, it is a locally owned and operated business since 1989, who has prided themselves on excellent customer service and high quality products. One of the oldest e-commerce sites on the web, it opened it's virtual doors in 1996. Over the years, it has made significant improvements to it's websites to make shopping with us simpler and easier. However, one thing has not changed: http://www.feelgoodlightups.com still provides the highest quality products at reasonable prices.
Feel Good Light Ups on-line store is secure and easy to navigate. For direct service, contact Customer Service to talk with it's courteous and knowledgeable staff. Call at 800-962-0956 or email at sales(at)feelgoodlightups(dot)com and get full information about products and terms.