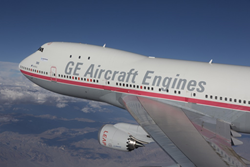 Houston, Texas (PRWEB) February 13, 2017
Ellwood Texas Forge Houston (ETFH) wins additional "rotating" parts supply for GE Aviation's new Leap engine. This significantly expands ETFH's scope of supply on this new expanding program, adding to the existing Nickel based forgings ETFH had previously contracted with GE.
Deliveries of the new parts will begin in Q3 2017, and run through December of 2020, concurrent with the initial parts won. The scope of work includes; Forging, Heat Treatment, Machining, CMM Inspection, Destructive, and Non-Destructive Testing.
Richard Allender, President of the Ellwood Closed Die Group, stated "GE's willingness to place additional Leap business with ETFH is a testament to GE's confidence in ETFH, and our excellent, long standing relationship. The hard work, focus, and performance of our team, from Business Development through Engineering and Operations, have made wins like this possible. We are extremely pleased to expand and continue our partnership on GE's most critical engine platform."
About Ellwood Texas Forge Houston and the Ellwood Closed Die Group
Ellwood Texas Forge Houston is one of two closed die forging companies owned by the Ellwood Group Inc., headquartered in Ellwood City, PA.  Located in southeast Texas along with its sister companies, Ellwood Texas Forge Navasota and Ellwood Texas Forge and Machine, these facilities comprise the Ellwood Closed Die Group. A computer controlled 11,000 ton multi-ram hydraulic press, 16,000 ton screw press and a computer controlled 80 meter-ton counter blow hammer form the core of the group's closed die forging capabilities. Conventional steam hammers, smaller hydraulic presses and mechanical presses are also used to forge near net closed die forgings out of carbon, alloy, stainless, nickel and titanium.  Each forge facility also has in-house die sinking, cutting, heat treatment, testing and machining capabilities. Both forging facilities possess AS9100C, ISO9001:2008 and Nadcap certifications. Ellwood Texas Forge and Machine primarily provides finish machining to the forge facilities. Primary markets served include, Aerospace, Construction, Defense, General Industrial, Marine, Mining, Oil & Gas and Power Generation.
Ellwood Group Inc. is a privately held growth oriented company with nine separate business units. All of its business units are non-union and have a strong focus on safety, quality and reliability.