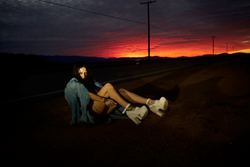 Los Angeles, CA (PRWEB) February 24, 2017
Los Angeles indie electronic artist/writer/producer Ramsey has released her brand new self-titled EP via FACTION Entertainment/KOBALT today on all platforms online at http://fanlink.to/RamseyEP. Ramsey is currently streaming her new album in its entirety online at https://soundcloud.com/ramseysound/sets/ep1/s-hKpdQ for fans.
21-year-old indie electronic artist, writer and producer, Ramsey exploded onto the scene with her dark electronic pop in January 2016. She quickly cultivated a rabid following of fans that helped her accumulate over 2.8 million Soundcloud plays in the first six months. Her debut EP's lead single "See You Bleed" was originally posted online in February 2016 and quickly climbed the charts, reaching #197 on the worldwide Digital Radio Tracker.
Ramsey continues to win over critics and fans alike with everyone from the Huffington Post to Perez Hilton praising the powerful contrast of her sound. LA Weekly proclaimed, "Ramsey doesn't fit the popstar mold, but she's probably going to be one anyway." Pop Wrapped says, "Ramsey is wasting no time gathering her growing legion of fans, and for good reason; she is something very different in an ocean of carbon copy musicians looking to strike celebrity gold. Intent on moving people into a raw and emotional space, Ramsey uses her distinct and vulnerable vocal style to reach through to the hearts of her listeners."
Ramsey's brand new video for "Love Surrounds You" directed by James Mountford can be seen online at https://www.youtube.com/watch?v=C_unKlEk45g. The video prompted HighSnobiety.com to name it one of "the Spookiest Sex-Jam of the Year."
###