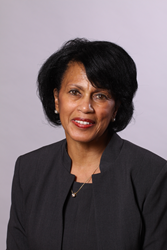 "Dr. Malone's tenure at the helm of the NLN since 2007 has been marked by daring ingenuity through the launch and promotion of significant faculty development and leadership initiatives." –NLN President Dr. Anne R. Bavier
Washington, DC (PRWEB) March 01, 2017
Among America's most vocal leaders in the national conversation on health care, the CEO of the National League for Nursing,Beverly Malone, PhD, RN, FAAN, has been tapped through competitive review for the honor roll of the 2017 Top 25 Women in Healthcare, a prestigious biennial list compiled by the Modern Healthcare. She will join her colleagues at an awards dinner on Wednesday, July 19, in Nashville, when the group will be formally recognized and also participate in a special Women Leaders in Healthcare Conference the magazine has organized.
The Top 25 program recognizes women in a variety of leadership roles, spotlighting their administrative and professional accomplishments, as well as their mentoring and willingness to serve as role models in an industry that, like many others, grapples with gender and other diversity issues.
Dr. Malone was notified of her selection in a message from Fawn Lopez, the publication's publisher and vice president. "It is truly an honor and privilege for me to welcome you to this year's class of extraordinary healthcare leaders and visionaries who are revolutionizing our healthcare system and transforming the healthcare delivery across our great nation," wrote Ms. Lopez.
"I am humbled to be counted among these illustrious women, working with dedication and determination, to advance the health of our nation and the global community," remarked Dr. Malone. "My sincere gratitude goes to Modern Healthcare for publicly highlighting our efforts and accomplishments and raising awareness of the challenges still to be met across the broad spectrum of the health care industry."
Dr. Malone has long been in the forefront of policy discussions and fiscal advocacy surrounding the persistent shortage of nurses and nurse educators. She has also promoted the increasingly sophisticated role of nursing in ensuring access to safe, quality, culturally competent care, with a special focus on traditionally underserved and vulnerable members of society.
Congratulating Dr. Malone on behalf of the NLN, President Anne R. Bavier, PhD, RN, FAAN, observed that the CEO's tenure at the helm of the NLN since 2007 "has been marked by daring ingenuity through the launch and promotion of significant faculty development and leadership initiatives. Because nursing and nursing education remain female-dominated professions, these result in meaningful gains for women pursuing advancement. It is no surprise to those of us who work closely with Bev that Modern Healthcare would choose to honor her for her significant record of achievement."
In 2016, Dr. Malone was named for the second consecutive year and third time within the decade by Modern Healthcare in its 15th annual survey of the 100 Most Influential People in Healthcare. Additional recognition that came her way in the past year includes the Florence Nightingale Award and induction into the Home Care & Hospice Hall of Fame and into the Nursing Hall of Fame at Tuskegee University in Alabama. In December, Dr. Malone served as one of four chairs of the 28th annual forum of the Institute for Healthcare Improvement. There, she was featured on several panels devoted to issues high on the agenda of women's and human rights advocates: increasing equity, diversity, and inclusion in the workplace. She is also a member of the influential National Academy of Medicine, formerly known as the Institute of Medicine, participating in the process that led to its groundbreaking report: "The Future of Nursing: Leading Change, Advancing Health."
The NLN Academy of Nursing Education; the International Council of Nurses Education Network; the NLN Foundation for Nursing Education Scholarship Program; and the NLN Leadership Institute are just four examples of formal avenues Dr. Malone has helped co-craft to increase opportunities and recognition for League members and others in higher education. They promote and celebrate earning advanced academic degrees and immersion in life-long learning that facilitates nurses caring for patients to the full extent of their practice and preparing to deliver outstanding, culturally competent care in today's dynamic, complex, technology-rich health care environment.
Dedicated to excellence in nursing, the National League for Nursing is the premier organization for nurse faculty and leaders in nursing education. The NLN offers faculty development, networking opportunities, testing services, nursing research grants, and public policy initiatives to its more than 40,000 individual and more than 1,200 institutional members, comprising nursing education programs across the spectrum of higher education and health care organizations.