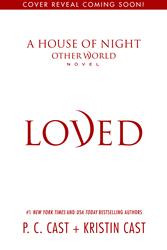 Ashland, OR (PRWEB) March 09, 2017
Blackstone Publishing proudly announces the acquisition of #1 New York Times and #1 USA Today bestselling authors P.C. Cast and Kristin Cast's forthcoming novel LOVED [Blackstone Publishing; July 11, 2017; hardcover, e-book, and audiobook], the first book in the Casts' all new HOUSE OF NIGHT OTHER WORLD series. Rick Bleiweiss, Blackstone's Head of Business Development, negotiated world rights in all formats in a major multi-book deal made with Meredith Bernstein of Meredith Bernstein Literary Agency.
The Casts' new series, House of Night Other World, features many of the beloved characters of the House of Night series and opens on the day of Zoey's eighteenth birthday. The Nerd Herd has been scattered across the country busily adulting for almost a year when Stark calls them back to Tulsa to surprise Z.
But all is not well in T-town. Strange, dark signs are appearing—could it be possible Neferet is stirring? Not willing to chance disaster striking again, Zoey calls on her newly reunited friends to circle with her and add a layer of protection over Neferet's grotto jail. Easy-peasy, right?
Wrong. Nothing at the House of Night is ever as it seems.
With rabid red vampyres closing in, Zoey and the Nerd Herd must come together again and battle evil. But a year is a long time. Have these old friends grown too far apart?
When the world fractures and allies become enemies, will darkness devour friendships or will light save those she's loved?
The launch of the new House of Night Other World series coincides with the tenth anniversary celebration of the House of Night books, which debuted when the first novel of the series, Marked, published in 2007. LOVED will publish on July 11, 2017. The authors will be appearing at Book Expo America in New York City and at the Romance Writers of America Annual Conference in Orlando this year. Additional tour events across the country will be announced soon.
Visit http://www.blackstonepublishing.com for more information.