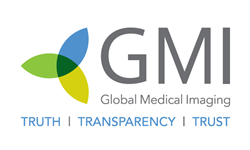 "The new agreement with Samsung, and the innovative technologies they offer with medical imaging, gives our customers a strong value proposition in a challenging healthcare environment." - Dave Lamoureux, Director of Sales & Marketing for GMI
Charlotte, NC (PRWEB) March 13, 2017
GMI announces a new strategic relationship with Samsung Healthcare to distribute their advanced imaging technology ultrasound systems.
Samsung, one of the world's largest companies and technology leaders, offers leading edge ultrasound technologies that will broaden and enhance GMI's ultrasound portfolio.
The agreement, which began February 1st, gives GMI distribution rights to Samsung's comprehensive line of diagnostic ultrasound equipment in point-of-care environments in hospitals and private practices.
The Samsung portfolio is designed to meet a broad set of imaging needs, ranging from compact, portable systems such as the PT60 ultrasound system to fully featured, multi-disciplinary systems like the RS80A with Prestige.
Dave Lamoureux, Director of Sales and Marketing at GMI, is excited about the new strategic agreement with Samsung.
"GMI has been an advocate for facilities purchasing ultrasound equipment and providing quality patient care. Our agreement with Samsung Healthcare allows us to expand that advocacy," Lamoureux said. "The new agreement with Samsung, and the innovative technologies they offer with medical imaging, gives our customers a strong value proposition in a challenging healthcare environment."
Ron Tousignant, Director of Ultrasound for Samsung, said he sees many synergies between GMI and Samsung Ultrasound and looks forward to a highly successful partnership with GMI.
For more information about Samsung's ultrasound equipment available through GMI, please visit http://www.GMI3.com.
About GMI
GMI, LLC is a Charlotte, NC (USA) based medical device sales and service organization. GMI has provided flexible and affordable diagnostic imaging solutions to the private practice and hospital markets since 2002. Specializing in ultrasound and nuclear medicine modalities, GMI sells and supports a wide variety of systems from many of the market leading manufacturers. GMI's field service presence has increased dramatically in response to a growing customer need for quality service at reasonable rates. In addition to equipment sales and service, GMI also provides equipment sales, financing, training, replacement parts and probes, and probe repair. Learn more at http://www.GMI3.com.
About Samsung NeuroLogica
Samsung NeuroLogica, the healthcare subsidiary of Samsung Electronics Co., Ltd, develops, manufactures, and markets innovative imaging technologies and is committed to delivering fast, easy and accurate diagnostic solutions to healthcare providers. NeuroLogica, the global corporate headquarters and manufacturer of Samsung computed tomography, is also the US headquarters for sales, marketing and distribution of all Samsung digital radiography and ultrasound systems. NeuroLogica's growing portfolio of advanced medical technologies are used worldwide in leading healthcare institutions helping providers enhance patient care, improve patient satisfaction, and increase workflow efficiency. Samsung is committed to being a leader in the field of healthcare imaging. For more information, please visit http://www.SamsungNeuroLogica.com.