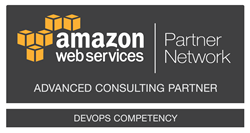 It is an honor to be recognized for delivering expert AWS DevOps solutions that transform organizations.
Atlanta, GA (PRWEB) March 13, 2017
Relus Cloud, an Advanced Consulting Partner in the AWS Partner Network (APN) announced today they have achieved the AWS DevOps Competency designation. The competency validates the firm's demonstrated technical proficiency and proven success with implementing continuous integration and delivery, as well as automating infrastructure with configuration management tools. Relus Cloud helps organizations in these areas solve business challenges and uncover new opportunities using data.
"We are proud to achieve this competency with AWS this year," said Mark Metz, Chief Executive Officer at Relus Cloud. "It is an honor to be recognized for delivering expert AWS DevOps solutions that transform organizations."
The AWS DevOps Competency is part of the AWS Competency Program, which spotlights partners who have demonstrated deep proficiencies and customer success in specialized solution areas. This competency highlights a firm's ability to offer robust DevOps solutions to organizations looking to build highly scalable and secure applications fast.
Relus Cloud has a successful track record of delivering innovative DevOps solutions for clients in retail, media and publishing, and professional services industries. The Relus Cloud DevOps technical team creates detailed continuous integration and delivery roadmaps, architecture and design documentation, and automated infrastructure deployments, all based on AWS best practices and guidelines.
For more information about Relus Cloud's AWS DevOps capabilities, visit:
https://reluscloud.com/services/devops-in-aws/
About Relus Cloud
Relus Cloud is an AWS Partner Network (APN) Advanced Consulting Partner helping customers prepare for growth, eliminate uncertainty, train their technical teams, and move faster in a cloud-first world. Our core competencies are Migrations, DevOps, and Big Data, with an emphasis on strategy consulting, architecture and design, cloud migration, culture change, managed services, and IT staffing.