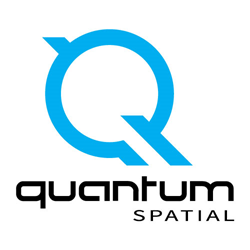 "I am honored by the overwhelming trust and respect that have been extended to me by the remote sensing community in this appointment," Silvia said.
ST. PETERSBURG, Florida (PRWEB) March 13, 2017
Quantum Spatial, Inc., the nation's largest independent geospatial data firm, announced that Solutions Developer Evon Silvia was appointed as chair of the American Society for Photogrammetry and Remote Sensing (ASPRS) LAS Working Group yesterday at the organization's IGTF 2017 conference in Baltimore. Evon will take over for Lewis Graham, president and CTO of GeoCue Group, who has served as the working group's chair for 18 years.
"I am honored by the overwhelming trust and respect that have been extended to me by the remote sensing community in this appointment," Silvia said. "Lewis's leadership has helped develop the LAS specification into an impressive example of people and businesses working together for the betterment of our profession. I look forward to building on this foundation to keep the LAS specification relevant, useful and the industry standard for all point cloud data."
The ASPRS LAS Working Group maintains and updates the LAS specification, the industry standard for point cloud data exchange. The LAS format was conceived as a vendor-neutral binary alternative to proprietary data formats for transferring point cloud data between software packages. Over its 14-year history, the LAS format has become the primary point cloud data format utilized by a variety of stakeholders, including academics, emergency responders, public agencies and private entities.
An active member of the ASPRS LAS Working Group since 2015, Silvia brought a fresh voice that represents the point cloud user community in a group largely composed of software and sensor manufacturers. As chair, he intends to refresh and revise the LAS 1.4 specification and resume development of LAS 1.5/2.0 to adapt to the evolving needs of the remote sensing industry. Having collected more than 70,000 square miles of LiDAR in 2016 alone, Quantum Spatial's leadership as the nation's preeminent remote sensing firm has prepared Evon for this task.
With his diverse background in civil engineering, land surveying, sensor research and computer programming, Silvia looks at remote sensing a little differently. He has a Master's degree in Geomatics and Civil Engineering from Oregon State University (the first in two decades) and joined Quantum Spatial in 2011 to focus on developing high-performance LiDAR tools and establishing best practices for aerial LiDAR acquisition. As a professional land surveyor registered in Oregon and Washington, Silvia is passionate about data quality and hopes to improve collaboration across the remote sensing community.
About ASPRS
ASPRS is a scientific association serving over 7,000 professional members worldwide, which seeks to advance knowledge and improve understanding of mapping sciences to promote the responsible applications of photogrammetry, remote sensing, geographic information systems (GIS) and supporting technologies.
About Quantum Spatial, Inc.
Quantum Spatial, Inc., (QSI) the nation's largest independent geospatial data firm, provides geographic insights to the largest government and corporate organizations that need geospatial intelligence to mitigate risk, plan for growth, better manage resources and advance scientific understanding. A pioneer in advanced mapping technology, QSI's end-to-end solutions and services deliver the industry's highest data quality and accuracy, while leveraging the widest array of technologies for analyzing all types of terrains. Customers use the company's acquisition, processing, analytics and visualization solutions in a range of technical and scientific disciplines – from geology and biology, to hydrology, forestry and civil engineering. Utilities, oil and gas producers, engineering and construction firms, as well as the military and major government agencies, are QSI customers. QSI has multiple offices around the country. For more information visit quantumspatial.com, join us on LinkedIn or follow us on Twitter @QuantumSpatial.