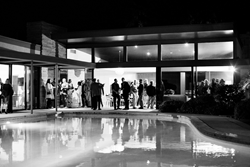 "We are thrilled that Modernism Week offered expanded opportunities for visitors and residents to learn about our community and enjoy Palm Springs and other desert communities," said J. Chris Mobley, Modernism Week Board Chairman.
Palm Springs, California (PRWEB) March 15, 2017
Modernism Week officials have announced that attendance at the annual event, which took place in the Palm Springs area of Southern California from February 16 - 26, 2017, was estimated at 97,000 attendees, an increase of more than 25% over the 2016 attendance. Celebrating midcentury modern design, architecture, art, and culture in Palm Springs, the 11-day festival generated an estimated $35.5 million in revenue for area hotels, shops, restaurants, and other local businesses from Palm Springs to Indian Wells and beyond. In addition, $1.3 million of the proceeds generated by ticket sales from this year's event went directly back to community neighborhoods and partner organizations, a new record for Modernism Week. This reflects an estimated 26% increase over the amount generated for these organizations last year. In addition, CAMP, Modernism Week's 'Community and Meeting Place' and headquarters for tours and events, saw more than 25,000 visitors throughout the festival.
"We are thrilled that Modernism Week offered expanded opportunities for visitors and residents to learn about our community and enjoy Palm Springs and other desert communities," said J. Chris Mobley, Modernism Week Board Chairman. "The worldwide publicity that the event generates continues to help brand the entire Coachella Valley as a Mecca for Modernism and architecture, which has a year-round influence on the valley's tourism and international stature. The support of the City of Palm Springs as our Civic Presenting Sponsor and the larger community, our sponsors, partners, and volunteers makes this event one in which attendees plan to return to each year. In addition, we are overjoyed that we were able to disperse more than $1.3 million from ticket sales back to local neighborhoods and partners."
Attendees for the annual event came from all across the globe. In additional to many Southern California visitors, the event was popular with attendees from the Pacific Northwest, Chicago, New York, and Florida. Internationally, attendees visited from Canada, England, Germany, France, Australia and many more locations.
The celebration continued to garner an unprecedented amount of media attention with more than 2.75 billion impressions worldwide. International coverage included Denzeen Online (Auckland, New Zealand), Lonely Planet España (Barcelona, Spain), World Architecture News (Brighton, England), Brasiltravelnews.com (Rio de Janero, Brasil), Modern Weekly – Shanghai edition (Shanghai, China), Frankfurter Neue Press (Frankfurt, Germany), Borneo Bulletin (Brunei, Darussalam), and Blueprint (England). National coverage included The New York Times, Travel & Leisure, The Los Angeles Times, Atomic Ranch, San Francisco Chronicle, Houston Chronicle, Sunset Magazine, New York Post, and The Washington Post. National broadcast shows CBS This Morning and 5 Warm-Weather Escapes Close to Home on the Travel Channel also featured the festival.
The popular Palm Springs Modernism Show & Sale also saw increased numbers. More than 10,100 participants attended the popular sale at the Palm Springs Convention Center, up 25% from the previous year. This figure does not include the more than 1,250 guests who attended the show's opening night party on Friday, February 17. Attendees were eager to view and purchase furniture, decorative and fine arts representing all design movements of the 20th century from more than 85 premier national and international dealers.
"The 2017 Palm Springs Modernism Show & Sale was by far the most well-attended of the Palm Springs shows in our company's history," said Rosemary Krieger, President of Dolphin Promotions. "Our exhibitors reported increased sales and their enthusiasm for the increased traffic was amazing."
Modernism Week celebrates and fosters appreciation of midcentury architecture and design, as well as contemporary thinking in these fields, by encouraging education, preservation and sustainable modern living as represented in Palm Springs and the surrounding Coachella Valley. Highlighting this dedication to education, this year more than thirty lectures and films spotlighting famed architects, landscape designers, historians, design experts and authors were presented to attendees. Additional Modernism Week educational programs included several West Coast film premiers, and panels about architectural preservation and renovation.
Educational outreach has always been a core element of Modernism Week programming, and the trend continued this year with a special series of talks and films on the topic of Mexico City Modern. A series of four presentations was conducted by leading luminaries on the subject, and a Modernism Week-produced trip to Mexico City will be held later this spring.
Modernism Week's central headquarters, CAMP ('Community and Meeting Place') was staged in a dynamic tented structure located in Downtown Palm Springs. Ferguson, Modernism Week's exclusive Kitchen, Bath and Lighting sponsor, presented entertaining culinary demonstrations in their state-of-the-art kitchen, and featured Thermador appliances and innovative faucets from DXV. The expansive CAMP space also featured a café and bar by Cheeky's-to-go, a merchandise area managed by Destination PSP, an information kiosk, and a large theater that featured more than 40 stimulating programs, panels and demonstration. This included the new, one-day Learning Lab seminar, targeted for architectural and design professionals, sponsored by Corian solid surfaces and Zodiaq quartz. It was also the ticket hub for the daily Premier Double Decker Architectural Bus Tours, and new for 2017, group rides on the all-new Sunny Cycle electric bike experience with special tours developed specifically for Modernism Week exploring architectural neighborhoods in downtown. It was also the departure location for test rides of Alfa Romeo vehicles, one of the event's premier sponsors.
"This year attendees returned daily to CAMP to attend talks and cooking demonstrations, depart on tours, shop, and dine. The comments we received during the event reinforced that CAMP continues to be an important part of Modernism Week's success," said Mobley.
Other exciting educational and enlightening programs included presentations celebrating the photography of Slim Aarons and his work in Palm Springs, a presentation and new documentary film on the history of neon signs, presentations and visual displays examining the architecture of the Desert Modernists, and tours and talks about modern gardens and outdoor living.
Other Modernism Week 2017 festivities included the sold-out annual Modernism Week Opening Night Party on Thursday, February 16, presented by Ferguson Kitchen, Bath & Lighting Gallery. The highlight of the night was a rousing performance by a singing group called the Dreamboats, which was graciously underwritten by Corian. The chic red carpet Opening Night Party incorporated a 60s-era spy movie-theme that paid homage to the James Bond film "Diamonds Are Forever" which featured a famous scene filmed at the Elrod House in Palm Springs, designed by John Lautner. During Modernism Week, Lautner received a special star dedication on the Palm Springs Walk of Stars honoring his designs and contributions to the history of midcentury modern architecture.
Modernism Week once again offered attendees the opportunity to participate in home tours and architectural excursions outside of the immediate Palm Springs area including Palm Desert, Rancho Mirage, and Indian Wells, as well as the high desert. Tours outside the Valley included trips to Alta Loma for a tour of master woodworker Sam Maloof's residence and studio, to Claremont for a Claremont Modernism Tour, and to Banning for a fun filled night at the Museum of Pinball.
The Modernism Week Show House: The Christopher Kennedy Compound, sponsored by Traditional Home and California Home + Design magazines, showcased the newly renovated Villa Golightly, the home of social media sensation Kelly Lee (aka 'Kelly Golightly') and her husband, Fred Moser. Organizer Christopher Kennedy brought together twenty of the nation's most prominent tastemakers to create uniquely designed rooms in this decorator showcase. It featured a Red Carpet Gala, starlight after party, daily tours and many other exciting evening events.
Later this year, Modernism Week will offer its annual Fall Preview from October 20-22, 2017 (tickets on sale August 1 at 12 p.m. PST) and will stage the 2018 Modernism Week event from February 15-25, 2018 (tickets on sale November 1 at 12 p.m. PST). For more information about future Modernism Week events, visit modernismweek.com and follow them on Facebook, Instagram, and Twitter.
About Modernism Week:
Modernism Week is a 501 (c) (3) charitable organization, providing scholarships to local Palm Springs students pursuing college educations in the fields of architecture and design; as well as giving grants to local and state organizations for their efforts to preserve modernist architecture throughout the state of California.
Modernism Week's Mission:
The mission of Modernism Week is to celebrate and foster appreciation of midcentury architecture and design, as well as contemporary thinking in these fields, by encouraging education, preservation and sustainable modern living as represented in the greater Palm Springs area.