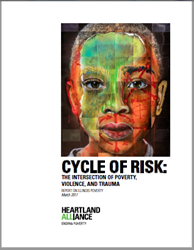 "We have a moral obligation to prevent violence before it starts, intervene where it's happening, and disrupt the cycles that perpetuate it," - Evelyn Diaz, President of Heartland Alliance.
Chicago, IL (PRWEB) March 15, 2017
The latest report on Illinois poverty from Heartland Alliance's Social IMPACT Research Center shows that the long-term consequences of violence can have ripple effects throughout a person's life and the community where they live. Cycle of Risk: The Intersection of Poverty, Violence, and Trauma, takes a comprehensive look at how poverty, violence, and the resulting trauma fuel the violence crisis within Illinois.
Witnessing and/or being a victim of violence can result in trauma and post-traumatic stress disorder. These responses, if unaddressed, can negatively impact people's lives in many ways, from difficulty achieving in school and finding and keeping a job, to increasing the likelihood of violent and aggressive behavior. In this way, untreated trauma feeds the cycle of poverty and violence in highly impacted communities.
Cycle of Risk, examines how poverty and violence often intersect and feed into one another, how they share root causes, and how the resulting trauma directly feeds back into the cycle. It also calls for a spectrum of interventions and approaches to interrupt the cycle, including:

Reforming the criminal justice system
Passing a responsible budget that includes adequate revenue for these critical services
Incorporating a trauma-informed approach to care within public services, schools, criminal justice settings, and health and human services
Investing in educational achievement and health care
Increasing job quality and promoting employment opportunities
Addressing the affordable housing crisis