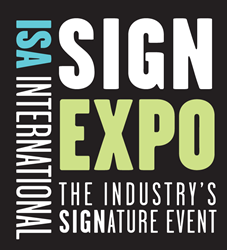 Alexandria, VA (PRWEB) March 18, 2017
Three products that can transform operations for sign, graphics and visual communications companies have been named top winners of the ISA Sign Expo 2017 Innovation Awards. The products were selected in three categories by a panel of industry experts. All will be available on the ISA Sign Expo tradeshow floor April 20-22.
The first-place winners:

Business Solutions/Software: ONYX 12.1 from Onyx Graphics produces benchmark RIP and data transfer speeds, increasing productivity and profits. Users can avoid wasted sheet media with an intuitive user interface and visual nesting previews. An integrated G7 process improves gray color for output consistency across devices and applications.
Electronic and Traditional Signage: Component Signage, Inc.'s Inciseon product line transforms neon with a lower voltage/more energy efficient product. Inciseon Skeletonized is made using common materials, but has extreme durability. Inciseon Integral embeds illumination directly into the substrate.
Print: 3M™ Print Wrap Film IJ180mC-120, a printable metallic wrap film, gives vehicles a high-tech, attention-grabbing finish.
"One of the highlights of ISA International Sign Expo each year is the ability to touch, feel and buy the latest product innovations," said Lori Anderson, ISA president and CEO. "The winners showcase some truly brilliant ideas that provide new opportunities to expand business or to solve challenges. But all of the nominees offer something special."
The winners were selected from numerous new and innovative products that will be introduced to the sign, graphics and visual communications industry during ISA International Sign Expo 2017. The event takes place at the Mandalay Bay Convention Center in Las Vegas.
Attendees can see the full list of Innovation Awards nominees at http://www.signexpo.org/innovations. Learn more about ISA International Sign Expo 2017 at http://www.signexpo.org.
About ISA
International Sign Association (ISA) represents manufacturers, suppliers, and users of on-premise signs and sign products. ISA and its Affiliated Associations work to support, promote, and improve the worldwide sign and visual communications industry, which employs more than 200,000 American workers and has an economic impact of $37.5 billion.