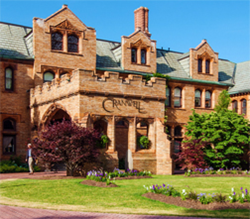 This conference allows you to turn inward to understand how creative one can be when we allow the mind to rest and meet its capacity. – Renee Rodriguez Goodemote MD
AVERILL PARK, NY (PRWEB) March 21, 2017
A distinguished faculty of The American Meditation Institution (AMI) will present a 30 credit CME training in Yoga Science as holistic mind/body medicine to relieve and prevent physician burnout at AMI's 9th Annual CME Conference on October 24-28, 2017. Entitled "The Heart and Science of Yoga," this comprehensive physician training at the Cranwell Resort and Spa in Lenox, Massachusetts, is accredited through the Albany Medical College Office of Continuing Medical Education.
This year's American Meditation Institute "Heart and Science of Yoga" CME conference is uniquely designed to offer a refreshingly new, clearer and kinder perspective on every personal and professional responsibility facing physicians and other health care providers. Through engaging lectures by an accomplished faculty, instructive practicums and ongoing Q&A, the curriculum will provide easy-to-use, practical tools to prevent and reverse the debilitating causes and effects of physician burnout. Lecture topics will include AMI Meditation, diaphragmatic breathing, easy-gentle yoga, Yoga psychology, the most recent findings on neuroplasticity, PTSD, trauma, resilience, chakra system therapy, mind function optimization, epigenomics, ayurveda, nutrition, functional medicine, and lymph system detoxification.
Each faculty member at this 2017 CME conference is committed to the advancement and training of Yoga Science as holistic mind/body medicine. Presenters will include program director Leonard Perlmutter, AMI founder, meditational therapist and award-winning author; Mark Pettus MD, Director of Medical Education and Population Health at Berkshire Health Systems; Anthony Santilli MD, board-certified in Pulmonary and Critical Care Medicine; Prashant Kaushik MD, board-certified Rheumatologist; Sara Lazar PhD, instructor in the Department of Psychiatry at Harvard Medical School, and an Associate Researcher in the Psychiatry Department at Massachusetts General Hospital; Susan Lord MD, a private practice holistic physician focusing on prevention and treatment, and former course director for the The Center for Mind-Body Medicine's "Food As Medicine" program in Washington, DC; Jesse Ritvo MD, Assistant Medical Director, Inpatient Psychiatry, University of Vermont Health Center; Beth Netter MD MT, holistic physician and acupuncturist, Albany, NY; Jyothi Bhatt BAMS, ayurvedic practitioner and faculty member of Kripalu School of Ayurveda and Physician's Assistant at New York Presbyterian/Weill Cornell Medical Center; Gustavo Grodnitzky PhD, noted author, consultant and psychologist and Chair of The American Meditation Institute's Psychological Education Department; and Jenness Cortez Perlmutter, faculty member of The American Meditation Institute.
Researchers Tait D. Shanafelt, MD; Lotte N. Dyrbye, MD, MHPE; Colin P West, MD, PhD from the Mayo Clinic recently conducted a study on the "Potential Impact of Burnout on the US Physician Workforce." Findings were published in the Mayo Clinic Proceedings, Vol. 91, Issue 11, Pages 1667-1668. In summary, the study found that "the increase in burnout observed in U. S. physicians between 2011 and 2014 likely translated into approximately a 1 percent reduction in the professional effort of the U. S. physician workforce. This loss is roughly equivalent to eliminating the graduating class of seven U.S. medical schools. To preserve adequate access to health care, there is a societal imperative to provide physicians a better option than burning out, working part-time or leaving the profession."
Acknowledging the current challenge, conference director, Leonard Perlmutter states, "The American Meditation Institute acknowledges the troubling reality of physician burnout and is committed to empowering our nation's caregivers with the practical and reliable tools they need to prevent and relieve their stress on a daily basis. This year's conference is dedicated to teaching techniques that help reduce physician burnout through quality, comprehensive and evidence-based education."
Noted physicians Dean Ornish, Bernie Siegel, Mehmet Oz (Dr. Oz), and Larry Dossey have endorsed Mr. Perlmutter's encyclopedic treatise on Yoga Science, "The Heart and Science of Yoga," which serves as the primary curriculum for the conference.
About the American Meditation Institute
The American Meditation Institute is a 501(c)3 non-profit educational organization devoted to the teaching and practice of Yoga Science, meditation and its allied disciplines as mind/body medicine. In its holistic approach to wellness, AMI combines the healing arts of the East with the practicality of modern Western science. The American Meditation Institute offers a wide variety of classes, retreats, and teacher training programs. AMI also publishes "Transformation" a bi-monthly journal of meditation as holistic mind/body medicine. Call 518.674.8714 for a mail or email subscription.
Media Contact:
Robert Washington
60 Garner Road, Averill Park, NY 12018
Tel: 518-674-8714
Fax: 518-674-8714