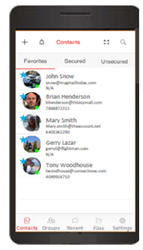 Cyber attacks cost an estimated $500 billion in 2015.
San Francisco, CA (PRWEB) March 24, 2017
Secured Communications LLC., the global leader in safeguarding communications, today announced the launch of its secured alternative to email to expand their secured enterprise mobile and desktop communications solutions for vetted agencies and corporations. This enterprise level secured alternative to email protects users from economic espionage and cyber hacking risks associated with open email communication, which pose a significant and growing risk to critical corporate, health care and government communications.
Secured Communications' proprietary Command Center interconnects web, PC and mobile devices (iPhone, Android, Windows phones) in a "Private Secured Network" for secure encrypted email, messaging, audio, video and file sharing to individuals or groups of any size within an agency or corporation. The secure PC/online Command Center auto-syncs with mobile devices allowing users anywhere to securely communicate and share information.
Secured Communications has successfully integrated email features of mass distribution and file transfer into an innovative, robust secured messaging platform on its proprietary trusted Global Secured Network™.
"Constantly evolving technology, corporate trade secrets, proprietary information, and intellectual property face grave risk of cyber hacker compromise, which in 2015 cost an estimated $400 to $500 Billion dollars, and by 2019 will top $2 Trillion," said Lansing Woo, retired FBI Branch Chief in Charge of Counterintelligence for the Los Angeles FBI Division, now President of Secured Communications, LLC. "Economic espionage and theft of trade secrets can totally destroy a corporation's vitality. Secured Communications provides an easy to use, cost effective, and absolutely secure global communications solution."
In addition to protecting information, Secured Communications makes communicating simpler, faster and more effective, helping users effectively communicate, connect and collaborate with contacts and teams. By using Secured Communications, performance testing demonstrated a reduction of internal email by as much as 45%, productivity can increase by 32% and meetings can be reduced by 27%, thus allowing for more efficient information sharing and better connectivity. All communications are end-to-end encrypted using Advanced Encryption Standard (AES 256 bit) technology.
About Secured Communications, LLC
The global leader in safeguarding critical communications, Secured Communications delivers advanced encryption solutions for law enforcement, enterprises, corporations, government entities, defense agencies, health care organizations and limited individuals.
We provide secure email, messaging, audio, video and file sharing over a Private Secured Network with end-to-end encryption, using the Advanced Encryption Standard (AES), the encryption algorithm for securing sensitive information. Secured Communications is led by retired senior FBI and law enforcement leaders and allows only trusted partners vetted by the FBI's InfraGard program to access its technology. For more information about how Secured Communications can safeguard your communications, visit: http://www.SecuredCommunications.com.