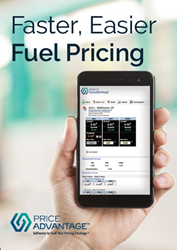 PriceAdvantage has served North American fuel retailers for more than 12 years and we fully support the nuances of the European market as well.
(PRWEB) April 03, 2017
PriceAdvantage, a fuel price management software company and division of Skyline Products, announced today that UK-based Euro Garages has selected PriceAdvantage software to execute their fuel pricing strategies as well as eliminate manual fuel price processes among their expanding portfolio of 341 sites located throughout mainland UK.
"PriceAdvantage has served North American fuel retailers for more than 12 years and we fully support the nuances of the European market as well," shared Chip Stadjuhar, President and CEO of Skyline Products. "Euro Garages is the perfect example of a forward thinking retailer – they are very progressive and will leverage PriceAdvantage to drive their unique fuel pricing strategies which will in turn increase fuel profits."
PriceAdvantage fully integrates with Oracle EPOS – allowing Euro Garages to establish new fuel prices and push those prices to the EPOS, price signs, and pumps with just one click. This automation removes the tedious process of having staff manually update price signs. In addition, PriceAdvantage provides deep analytics and robust reports – allowing EG to see daily fuel volumes as well as correlations between in-store sales and fuel volumes sold.
PriceAdvantage is recognized for utilizing customer input into product development and feature enhancements as well as providing exemplary customer service and support. PriceAdvantage provides this level of superior customer support to U.K. customers through a strategic alliance with TLM Technology Group of Bedford. TLM will provide Euro Garages with world-class support services - including unrivalled service response times from an expert team of dedicated support staff based at their 4000 sqft U.K. Support Hub.
About PriceAdvantage
PriceAdvantage creates Software to Fuel Your Pricing StrategyTM. Our easy-to-use, highly configurable, patented solution allows fuel marketers to execute their unique fuel pricing strategy faster and more accurately by reducing manual processes and human errors. PriceAdvantage enables customers to make rapid, informed fuel pricing decisions based on their unique business rules, then automatically post new prices to their POS systems, fuel pumps and price signs, and then receive price change confirmation – all in just minutes. PriceAdvantage is singularly focused on fuel pricing software and is a division of a privately held U.S. company, Skyline Products, which produces software solutions and thousands of American-made electronic price and transportation signs annually. Learn more at http://www.PriceAdvantage.com.
About Euro Garages
Based in Blackburn, Euro Garages was founded in 2001 by brothers Mohsin and Zuber Issa with the acquisition of a single petrol filling station in Bury, Greater Manchester. Since then, Euro Garages has established itself as one of the UK's fastest growing and most recognizable forecourt operators, with an expanding portfolio of 341 freehold-owned sites located throughout mainland UK.
Alongside an innovative approach to roadside retail property, Euro Garages has forged high-profile relationships with nationally and globally recognized retail and convenience brands, now operating in excess of 65 Starbucks drive-to and drive-thru restaurants, 145 Subway sub-stations and 96 Greggs bakeries.
Learn more about Euro Garages at http://www.eurogarages.com.