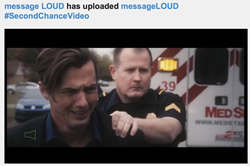 This video could save your life!
New York, NY (PRWEB) April 06, 2017
messageLOUD, the eyes-free smartphone app that automatically reads your texts, email, Facebook, WhatsApp & Skype messages, and email out loud so you can drive safely, has produced a must watch, 90-second video to advocate safe-driving best practices and combat distracted driving.
Entitled, "Second Chance" https://www.facebook.com/messageloud/videos/1404419402942260/, the high-quality production highlights the potentially devastating consequences of distracted driving, while offering a technological "second chance" solution to preempt any such calamity.
"It is our hope and belief," says Garin Toren, CEO & Founder of messageLOUD, "that the viral power of social media will carry the Second Chance video across a myriad of platforms to a broad audience, promoting our LOUD message and making ourselves, children, drivers, passengers, roads, and world a much safer place."
"We ask each and every one of you to please share and promote this video across the web, using the hashtag #SecondChanceVideo. Together, we can make driving safer!"
Technology could be a problem. But, with messageLOUD, technology could also be a solution. With so many meaningless and forgettable videos out there, here is one that could make a real difference.
Please use your networks and social media platforms to make everyone safer – perhaps even give someone a "second chance" at life.
messageLOUD is available for download at the Google Play Store and coming to iPhone soon.
About messageLOUD
messageLOUD is a patented smartphone app that automatically reads your texts (sms), email, WhatsApp, Facebook & Skype messages out loud, allowing you to drive safer. Our mission is to eliminate distracted driving with an eyes-free experience that enables you to automatically hear your messages out loud, to easily delete or dismiss messages, or call the sender back – all without having to look at your phone.  For more information about messageLOUD, partnership opportunities and customer support, visit http://www.messageLOUD.com.