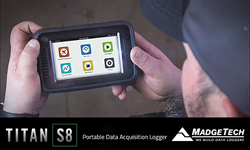 Warner, New Hampshire (PRWEB) April 10, 2017
The perfect tool for production and processing environments, the Titan S8 is powerful and portable for those constantly on the move. This device can be wall mounted or handheld and is fitted with a shock absorbing rubber grip boot to handle the nicks and dings of everyday use. The built in rechargeable battery packs a massive 100 hours of stand-by time or up to 18 hours of active logging time.
Whether monitoring just one or eight different parameters simultaneously, the easy to use capacitive touchscreen interface allows users to quickly view real-time data from all channels at once, or display an on-screen graph of recorded data in an instant. All this right from the palm of your hand, no additional software or computer required.
The versatility of the Titan S8 will make life easier for those responsible for monitoring output, efficiency, safety and need to satisfy compliance requirements. With an endless list of compatible sensor options, the Titan S8 delivers an all-in-one solution for a multitude of applications that measure temperature, current, voltage and pulse. This tool is ideal particularly for process engineers, equipment monitoring, quality personnel or those tasked with spot checking for product temperature validation.
Customizable features allow users to personalize the Titan S8 to save time and work smarter! Users can configure specified alarm notifications to prevent problems, dangerous situations or product loss. Unit measurement preferences include the ability to create and save custom engineering units to fit the application need. Channel set up and configurations can be saved and reloaded to ensure monitoring consistency over time and enable quick deployment of the device. Less repetitive tasks, improved accuracy and faster results!
The Titan S8 is an all-in-one solution, ready to use at a second's notice, wherever it's needed. Recorded data is saved to the device's built in storage and can be offloaded to a USB drive at any time for further analysis and reporting.
For more information about the MadgeTech Titan S8 and how it can help improve the efficiency of process monitoring needs in your environment, contact a MadgeTech technical sales representative at (603) 456-2011 or email them at sales(at)madgetech.com.