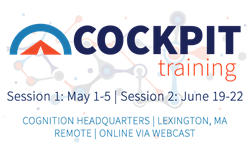 ...we're able to give users more flexibility and let them set their own learning pace.
Lexington, Massachusetts (PRWEB) April 12, 2017
Cognition Corporation, a software company specializing in medical device compliance and commercialization, is opening up registration for its Spring 2017 Cockpit™ training classes. The first session will run May 1-5, and the second June 19-22.
Revamped versions of Cognition's Lead User and Advanced Lead User courses—now called Lead User 1 and Lead User 2—will be offered. The newly developed Introduction to Cognition Cockpit and Workflow 1 courses will also be available. Cognition offers training at the global headquarters in Lexington, MA, or remotely via webcast online.
The training classes are designed to guide users through both learning the basics of operating Cockpit and tailoring it to suit their needs. With hands-on assistance from Cognition's Application Engineers, trainees have the opportunity to dive into the platform and discover its full potential.
These classes are offered as a redesign of Cognition's previous training modules. After receiving user feedback, Cognition's Application Engineers (AEs) have been hard at work narrowing down each class and expanding offerings.
"We're trying to meet the needs of all types of users," says AE Jordan Brady. "By expanding our offerings and narrowing the focus of our trainings, we're able to give users more flexibility and let them set their own learning pace."
Those interested in signing up for training are encouraged do so using the Spring 2017 Training website: https://cockpitspringtraining2017.splashthat.com/.
Cognition Corporation, based in Lexington, Massachusetts, has offered solutions for product development compliance for more than fifteen years. Cognition offers two core products: Cognition Cockpit™ and Cognition Compass™. Thousands of users worldwide use Cognition solutions to manage their product development process and meet regulatory, performance, and time-to-market goals. For more information, visit http://www.cognition.us or call (781) 271-9300.
###