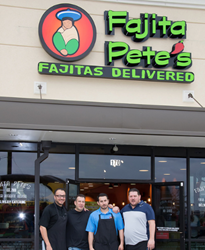 (PRWEB) April 14, 2017
After announcing the launch of Fajita Pete's Franchise Program, the Houston-based Mexican restaurant celebrates their seventh grand opening with a warm welcoming from 900 guests.
The afternoon-long event featured Fajita Pete's famous fresh-off-the-grill fajitas, popcorn, cotton candy, multiple bounce houses and entertainment by 104.1 KRBE's live DJ.
Franchise owner, Ram Aguilera, welcomed nearby communities to get a taste and feel for everything Fajita Pete's has to offer, including its fresh and high quality ingredients that have become a popular alternative to pizza and Chinese food delivery.
Fajita Pete's currently has locations in Houston, Richmond, Dallas, Katy, Tomball, Memorial, Pearland with two more locations set to open next quarter in Sienna Plantation and Cypress. All locations will continue focus on delivery and takeout services, with a wide catering radius to serve nearby communities.
In observance of the Lenten season, Fajita Pete's will offer a Shrimp Fajita Special beginning March 1st through April 15th.
Photos: https://flic.kr/s/aHskV63Sry
Video: https://youtu.be/0d4dDlU16_o  
About Fajita Pete's
Fajita Pete's is a Houston-based Mexican restaurant that offers fresh, made-from-scratch fajitas and a variety of authentic dishes for delivery, pick-up, catering and dine-in. Founder Pete Mora opened his first restaurant in 2002 and soon received an overwhelming amount of catering request from local companies. Envisioning a better way to fill a growing niche, he decided to focus on a 1,000 sq. ft. catering and delivery model that opened in 2008 as Fajita Pete's. For more information, visit http://fajitapetes.com.