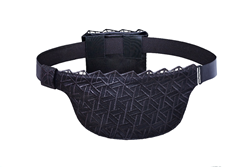 We are dedicated proponents of women's health. We developed Aika Black-T to bring much deserved empowerment and well-being to women everywhere. Our motto is 'Love Yourself, Love Your Her
LOS ANGELES (PRWEB) April 18, 2017
The Aika Black-T, a new FDA registered app controlled heated menstrual wearable for pain relief, launched today on Indiegogo.
Aika Black-T's goal is to transform the worst time of the month into a pill-free, pain-free, pleasant time for suffering women. This new technology in menstrual relief works by transmitting healthy far infrared (FIR) waves to the uterus.
Different from heating pads, it zaps menstrual discomfort and relieves the symptoms associated with Premenstrual Syndrome (PMS), and Pelvic Inflammatory Disease (PID). Backers are currently being offered early-bird specials starting at $99 while supplies last.
"We are dedicated proponents of women's health. We developed Aika Black-T to bring much deserved empowerment and well-being to women everywhere. Our motto is 'Love Yourself, Love Your Her'," said Lijun Chen, CEO, Aika Black-T.
Aika Black-T operates with an innovative Graphene™ material developed by an expert in high molecular science. It produces and conducts even heat through 5μm to 15μm of FIR waves which are very close to the frequency of uterine cells.
"Upon activation FIR frequencies quickly reach the womb and induce a warm and soothing resonance," added Chen. "The product was clinically tested by over 1,000 women and deemed totally safe and effective."
The black lace menstrual wearable is amazingly stylish, comfortable, and completely invisible beneath clothing. It can be worn alone or over an undergarment and temperatures can be moderated via a manual control or mobile app. The waist has a convenient adjustable sizing mechanism, so one size fits all. Relief is nearly immediate, as the Aika Black-T works within 10 seconds of being activated.
The Aika Black-T package includes one adjustable waist menstrual wearable, one controller and one Graphene heating pad. The controller is also the battery and once fully charged, can be used for 3-5 hours with a heat range of 95-140°F (35-60°C). When it's time to launder just remove the controller and wash the Aika Black-T and heater normally.
Features:

Fashionable Black Lace Design
Operates Via App or Manual Controller
Active Material: Aika Graphene™
Comfortable Pure Cotton Lining
Adjustable Waist
Hand or Machine Washable
For more information on Aika Black-T and to pre-order, visit the Indiegogo page or at aikausa.com
About Aika Technology:
Aika Technology was founded in 2013, in association with Chief Advisor Prof. Fugetsu Bunshi of the University of Tokyo and the Nobel Prize nominating body. Together with Professor Bunshi our team collaborated to establish the Aika Graphene™ Research and Development Laboratory in Beijing, China. The company has achieved multiple international breakthroughs in the field of innovative wearable technology. Aika Black-T's are expected to ship in June/July of 2017.