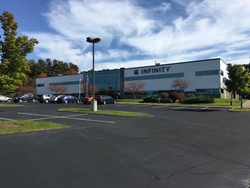 We're eager to see what's in store, from product innovation to overall growth.
Seabrook, NH (PRWEB) April 20, 2017
Infinity™ Massage Chairs announced this week that effective June 1, 2017, it will be the exclusive massage chair supplier for Furniture Firm by Mattress Firm™, the largest mattress retailer in the country and a leader in massage chair sales.
"We are very excited about this next step in our partnership with Mattress Firm," said Dan Grover, Infinity's Executive Vice President of Sales and Marketing. "They have shown great success selling our products and we look forward to expanding our efforts with them, as well as adding a fourth massage chair to our Mattress Firm lineup," he continued.
Mattress Firm currently sells three of Infinity's top-selling chairs – the Presidential 2.0, the Imperial, and the SmartChair – at its special events throughout the U.S. Infinity engineered both the Presidential and the Imperial exclusively for the furniture retailer and looks forward to strengthening its partnership with the furniture industry leader.
Michael Milone, Director of Business Development and National Accounts, has played a major role in facilitating the partnership between Infinity and Mattress Firm. "It's been a pleasure working with and getting to know the Mattress Firm team," Milone said. "Their business values and goals align with ours, including the aspiration to improve the everyday lives of our customers. This has really helped our relationship to grow and be successful. We're confident that this next move will propel both our businesses forward and continue that success."
Mattress Firm is equally optimistic about the growing partnership, which will allow them to deliver new and exciting solutions to customers.
"As Mattress Firm constantly evaluates our guests' evolving wants and needs, we strive to offer them the best products in the industry and are doing so through expanding our relationship with Infinity Massage Chairs," said Josh Feinberg, Vice President of Multi-Channel Sales at Mattress Firm. "As we interact with more than 40 Million people at over 300 events throughout the year, we look forward to bringing our customers quality product through this expanded partnership."
"Our team is very grateful for this opportunity to expand our partnership with Mattress Firm," Grover said. "We're eager to see what's in store, from product innovation to overall growth. By working more closely together, we can continue our commitment to deliver the best massage chairs, as well as keep our promise to deliver a heightened level of health and wellness to all our customers."
Customers can experience Infinity Massage Chairs at countless fair and trade show events that Mattress Firm participates in nationwide.
About Furniture Firm by Mattress Firm
Furniture Firm by Mattress Firm specializes in high-quality home furnishings from the top brands in the industry. The company has been strictly an events and expositions retailer since its establishment in 2011. Without brick and mortar stores, Furniture Firm is able to pass the savings of reduced overhead directly to its customers.
About Infinity Massage Chairs
Infinity Massage Chairs is the fastest-growing massage chair brand in North America, and recently moved to its new 45,000-square-foot headquarters in Seabrook, NH. Over the years, the manufacturer has added significantly to its product line and continues to be recognized as a leader among the industry. Infinity ensures attentive sales support from the beginning and guarantees all of its massage chairs with a comprehensive warranty and lifetime technical support. The company's mission is to improve the well-being of its customers and provide the best in customer service.
To learn more about Infinity™ Massage Chairs, call 603-910-5000 or visit infinitymassagechairs.com.