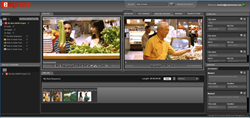 "The Empress eMAM provides Premiere Pro users with a comprehensive and integrated asset management solution."
Las Vegas, Nevada (PRWEB) April 20, 2017
Empress Media Asset Management, LLC (Empress) will present version 3.8 of its flagship eMAM™ platform featuring integrations with Adobe® Premiere® Pro CC and Adobe Team Projects as part of Adobe Creative Cloud at the National Association for Broadcasters Convention in booth SL14509 on Monday, April 24 at 2PM. eMAM is a media asset management software system providing a feature-rich online digital library with best-of-breed integrations to deliver a complete workflow process solution for its customers. eMAM unites on-premise and cloud-based storage and archive systems, in different locations with a variety of workflow solutions into a unified web or tablet-accessible interface.
Adobe Premiere Pro CC is a market leading video editing product. Team Projects, currently in beta, enables teams in different locations to work together on shared sequences and compositions in real time smoothly and securely. Users can sync changes and share updates as needed in Adobe Premiere Pro, After Effects® CC and Adobe Media Encoder CC. Adobe Team Projects is available now for Adobe Creative Cloud® for teams and enterprise customers.
eMAM provides an extension panel inside Adobe Premiere Pro, showing all of the available projects, categories, and individual assets -- regardless of location. Editors can search and browse the content, pulling only required native resolution media to local storage for editing, all within Adobe Premiere Pro. Users can also export media and sequences to eMAM for review and approval, for email and social media sharing, for digital delivery, and for archiving. eMAM users worldwide can collaborate with editors by creating projects, adding media, marking, subclipping, and rough cut editing directly from the tablet or web interfaces. Additional features include intelligent archive/restore, project and file versioning, mezzanine/proxy edit support, media localization, and now-team project support. The eMAM system extends the Team Project collaboration environment with support for non-technical users, for remote users, for media management and sharing, and for any type of cloud system.
David Miller, COO of Empress commented, "With a philosophy of open architecture and support for third party integrations, the Adobe video team is a key collaborator as we build complete workflow solutions for our customers worldwide."
"Our goal is to provide editors and post-production professionals with the best products to create impactful video content through seamless workflows," said Sue Skidmore, head of partner relations for professional video at Adobe. "The Empress eMAM provides Premiere Pro users with a comprehensive and integrated asset management solution."
eMAM 3.8 is available from Empress. For more information visit http://www.empressmam.com.
About Adobe at NAB
At NAB 2017, a sweeping update in Adobe Creative Cloud for video will be available to help filmmakers and video producers collaborate and streamline video workflows. The Creative Cloud release delivers new features for graphics and titling, animation, polishing audio and sharing assets; support for the latest video formats, such as HDR, VR, and 4K; new integrations with Adobe Stock; and advanced artificial intelligence capabilities powered by Adobe Sensei. Attendees at this year's NAB can get a closer look at the newly available features at the Adobe booth (#SL4010, South Hall in the Las Vegas Convention Center). For more information, visit http://www.adobe.com.
About Empress (http://www.empressmam.com)
Empress Media Asset Management, LLC is a privately held company providing media asset management and workflow management solutions for broadcast, media, and corporate clients including its eMAM Online, eMAM Vault, eMAM Publish, eMAM Workgroup, and eMAM Enterprise product lines. It is part of the Empress family of companies, which includes Empress InfoTech, specializing in customized software development, Empress Digital, one of the largest distributors of blank recording media and supplies, and Real Big Hits, a distributor and agency promoting original creative content. For more information visit http://www.empressmam.com.