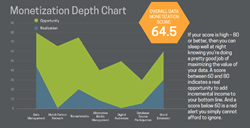 Many organizations don't realize how much money they are leaving on the table by failing to monetize their data
Princeton, NJ (PRWEB) April 21, 2017
In the modern economy, data is the high-grade fuel that drives American business. While most organizations possess a wealth of data, few monetize it to maximum value. A 2016 study from The Economist's Intelligence Unit found that only 58% of organizations in North America are actively generating revenue from their data, and nearly half of all respondents said that their organizations have failed in the past to take advantage of opportunities to capitalize on their data.
When it comes to monetizing and maximizing the value of data, nobody is equipped with more tools and more experience than ALC. Over the past 39 years, ALC has grown to become the industry leader in data monetization, generating more than $4.6 billion in incremental income for their clients and partners.
Today, ALC continues to enable organizations large and small, commercial and non-profit, to deploy data to acquire new customers, leverage customer relationships, increase market share and improve bottom-line profitability with their 6 Steps to Monetizing the Value of Your Data, highlighted in a new brochure available on their website:
1. Data Monetization Audit
2. Enhancement & Segmentation
3. Integral Insights Analysis & Evaluation
4. Data Monetization Score
5. Program Plan & Projections
6. Reporting & Continuous Improvement
ALC's proprietary Data Monetization platform consists of 8 proven programs all specifically geared to deliver clients and partners incremental income from their data assets with little to no upfront cost. Central to the Data Monetization platform is ALC's established and industry-leading Data Management program, which serves as the foundation of their strategy to maximize the value of their clients' data.
Among those 8 programs is Match Partner Network, which allows clients to generate additional income by monetizing their existing website traffic and email opens, without cannibalizing their current revenue streams. Digital Audiences, another ALC Smart Data Solution, allows marketers to leverage exclusive data partnerships that provide information unavailable anywhere else, with vetted and verified real-world data linked to hundreds of individual attributes.
The newest addition to the stable is the innovative Remarketable platform, which enables high-performing customized retargeting communications – to both known and anonymous website visitors – via direct mail, email, digital display, social media, mobile, IVR and programmatic TV. With a proprietary, patent-pending, privacy-compliant multichannel communications and optimization platform, Remarketable leverages the same "intent-to-buy" web browsing behavioral data deployed in display retargeting – integrated with a comprehensive universe of 3rd party data.
Other programs in the ALC Data Monetization platform include Integral Insights, Database Source Participation, Brand Extension and Alternative Media Management.
"Many organizations don't realize how much money they are leaving on the table by failing to monetize their data," said Donn Rappaport, Chairman and CEO of ALC. "Over the past four decades, we've built our reputation on being able to provide our clients with a systemic analysis of their data and revenue opportunities, to better equip them with the actionable insights and knowledge they need to maximize the value of their data and generate incremental income."
To view the Data Monetization brochure, visit the ALC website at http://www.alc.com/monetize-data-assets/ and click on the link to download.
About ALC
Founded by Donn Rappaport in 1978, ALC has grown to become the leader in the field of data-driven marketing. ALC's proprietary customer acquisition and data monetization platform deploys leading-edge data marketing products and practices to enable its clients—including the leaders in virtually every category of business—to grow, increase market share and maximize bottom-line profitability through the innovative use of data. The company employs some 200 data marketing professionals in its Princeton, NJ headquarters and in eight sales, marketing and account management locations around the country. Over the past 39 years, ALC has generated more than $4.6 Billion in NET incremental data monetization income for its clients and partners. For more information, visit http://www.alc.com and http://www.alcdigital.com.