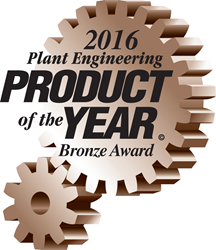 MILWAUKEE, Wis. (PRWEB) April 24, 2017
Brady (NYSE:BRC), a global leader in industrial and safety printing systems and solutions, today announced that its Brady Safety Lockout Program Gap Analysis service earned a 2016 Plant Engineering Product of the Year Award, with bronze in the Safety category. During the 2017 Engineering Awards in Manufacturing Dinner, the winners were announced, including 50 winners in 15 categories.
"Earning this prestigious award for the Lockout Program Gap Analysis underscores the true value that our services and solutions bring to our customers," says Bhushan Chouhan, product manager of Brady Safety Solutions and Services. "We strive to help our customers create a safe, compliant and productive workplace, and we plan to continue to build on this proud achievement."
During Brady Safety's Lockout Program Gap Analysis, Brady safety experts evaluate the compliance and behavioral application of a facility's lockout tagout. For a complete view of the lockout program, this service analyzes three areas: program compliance, employee engagement and program application. Each analysis is scored upon industry best practices to help customers easily understand areas of excellence and opportunities for improvement. Once the analysis is complete, users receive a detailed report that includes breakdowns of each section, a comparative summary and personalized action plan to help make improvements to the program.
The 29th annual Plant Engineering Product of the Year competition highlights new and innovative product developments. Readers of the publication select the most outstanding products that help improve safety, efficiency and productivity in their jobs.
For More Information
For Brady's complete product offering, visit BradySafety.com and BradyID.com.
About Brady Corporation:
Brady Corporation is an international manufacturer and marketer of complete solutions that identify and protect people, products and places. Brady's products help customers increase safety, security, productivity and performance and include high-performance labels, signs, safety devices, printing systems and software. Founded in 1914, the Company has a diverse customer base in electronics, telecommunications, manufacturing, electrical, construction, medical, aerospace and a variety of other industries. Brady is headquartered in Milwaukee, Wisconsin and as of July 31, 2016, employed approximately 6,400 people in its worldwide businesses. Brady's fiscal 2016 sales were approximately $1.12 billion. Brady stock trades on the New York Stock Exchange under the symbol BRC. More information is available on the Internet at bradycorp.com.
# # #