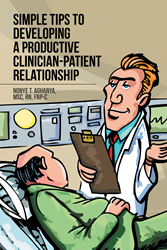 ALEXANDRIA, Va. (PRWEB) May 15, 2017
Following Nonye Aghanya's surgical procedure and during a five-month recovery, she developed an interest to assist clinicians, healthcare providers, and patients foster a more effective clinician-patient relationship. Aghanya identified practical tips to allay patient anxieties during clinical visits, which inspired "Simple Tips to Developing a Productive Clinician-Patient Relationship."
For over 25 years, Aghanya's profession as a family nurse practitioner enabled her to work with many patients. Through these interactions, she recognized several communication styles that helped reduce her patient's apprehensions, resulting in more efficient communication regardless of the patient's attitude or personality.
"I want to inform readers that a positive relationship is easier to achieve between clinicians and patients when care is guided by the principles of genuine compassion," said Aghanya. "When a clinician's communication style is tailored to meet a specific patient's traits and characteristics, the patient will feel more comfortable in the clinician's presence."
With humorous illustrations of clinician-patient scenarios and straightforward dialogues, this guidebook highlights how clinicians can encourage better communication with their patients.
"Simple Tips to Developing a Productive Clinician-Patient Relationship"
By: Nonye Aghanya
ISBN: 978-1-5320-0802-3 (sc); 978-1-5320-0803-0 (hc); 978-1-5320-0804-7 (e)
Available on iUniverse, Amazon and Barnes & Noble
About the author
Nonye Aghanya earned a master's in science as a family nurse practitioner from Pace University in New York. With over 25 years of experience, she has worked in various home healthcare settings. She has co-owned and operated a private medical clinic for 6 years and currently works in a retail clinic setting. Born in Nigeria, Aghanya resides in Alexandria, Virginia with her husband and four daughters.
###
Review Copies & Interview Requests:
LAVIDGE – Phoenix
Courtney Coombes
480-998-2600 x 612
ccoombes(at)lavidge(dot)com
General Inquiries:
LAVIDGE – Phoenix
Maggie Driver
480-998-2600 x 584
mdriver(at)lavidge(dot)com