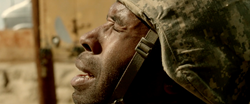 Saint Petersburg, Florida (PRWEB) April 27, 2017
Tanner Cusumano's new short film "CALIBER" to Premiere April 30th, 2017 in Saint Petersburg, Florida!
The upcoming short film, "CALIBER" will make its world premiere at Flordia's prestigious 12th Annual Sunscreen Film Festival. "CALIBER" is a relevant and timely short film exploring how soldiers are returning home with PTSD and struggle to keep their lives together.
 
"CALIBER" will premiere on Sunday, April 30th at 11 a.m. EDT at AMC Sundial 20 in Saint Petersburg, Florida. "CALIBER," tells the story of Officer Mike Banner who struggles with PTSD, experiencing flashbacks from his time serving in Iraq, Officer Banner responds to a domestic violence call in a bad neighborhood. He arrives, tension mounts, and the drunk, rage-fueled man (Constantine) charges Banner. Shots are fired. Constantine is down. Banner uses his training as an army medic to help stabilize the wounds and enlists the help of his terrified son, Elijah. But it's quickly clear that Constantine won't survive for long. Banner -- moved by the realization that Constantine is a fellow veteran -- takes matters into his own hands.
Sunday, April 30th
11:00am
AMC Sundial 20  
Theater 7
This event is open to the public.
###
For additional information, please contact
Tanner Films
Email: admin(at)tannerfilms.com
URL: http://www.tannerfilms.com
Phone: 1-310-893-1895