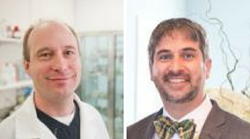 Yorba Linda, Ca (PRWEB) May 10, 2017
As part of the SyncD3 webinar series and virtual event, Thermo Fisher Scientific will discuss cutting-edge tools and topics in the fields of drug discovery & development. These tolls and topics include HCS/phenotypic assays, functional genomics & drug metabolism, 3D models/organoids, diseased models, CRISPR and stem cells.
In this webinar, attendees will gain a better understanding of where these areas intersect, the impact on drug discovery and development, as well as the future of the industry during a live panel discussion. They will learn from real field scientists and researchers who are working in the ADME/Tox and Drug Discovery fields.
The speakers for this event will be Dr. David Piper, director of research and development of Cellular Biology at Thermo Fisher Scientific, and Dr. Mark Kennedy, Scientist at Thermo Fisher Scientific, serving in the Cell Biology ADME/Tox group.
Dr. Piper earned a doctorate in neuroscience from the University of Utah. He has led teams at Thermo Fisher Scientific for more than 10 years in the development of products and services, and now as an R&D Director for the Cell Biology and Synthetic Biology businesses, he leads teams that provide molecular biology and cellular biology services.
Dr. Kennedy received his Ph.D. from Memorial University. Now in his current role at Thermo Fisher Scientific, Kennedy is part of a team that focuses on the development of new in vitro 3D cell culture models. His ongoing work focusses on the utilization of human embryonic stem cells, iPSCs and primary cells, and their application in spheroids, organoids and co-culture systems.
LabRoots will host the event May 16, 2017, beginning at 9:00 a.m. PDT, 12:00 p.m. EDT. To learn more about this event or to register for free, click here.
ABOUT THERMO FISHER SCIENTIFIC
Thermo Fisher Scientific Inc. is the world leader in serving science, with revenues of $17 billion and more than 50,000 employees in 50 countries. Our mission is to enable our customers to make the world healthier, cleaner and safer. We help our customers accelerate life sciences research, solve complex analytical challenges, improve patient diagnostics and increase laboratory productivity. Through our premier brands – Thermo Scientific, Applied Biosystems, Invitrogen, Fisher Scientific and Unity Lab Services – we offer an unmatched combination of innovative technologies, purchasing convenience and comprehensive support. For more information, please visit http://www.thermofisher.com
ABOUT LABROOTS
LabRoots is the leading scientific social networking website, which provides daily scientific trending news, as well as produces educational virtual events and webinars, on the latest discoveries and advancements in science. Contributing to the advancement of science through content sharing capabilities, LabRoots is a powerful advocate in amplifying global networks and communities. Founded in 2008, LabRoots emphasizes digital innovation in scientific collaboration and learning, and is a primary source for current scientific news, webinars, virtual conferences, and more. LabRoots has grown into the world's largest series of virtual events within the Life Sciences and Clinical Diagnostics community.