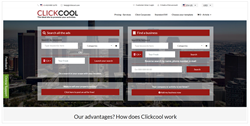 (PRWEB) May 25, 2017
A company serving its customers
ClickCool Ads Inc. is a Canadian company, specialized in inbound marketing. Clickcool helps companies attract visitors through quality content created by themselves, to convert leads, customers nearby and position their activities on search engine results like Google, Yahoo and Bing.
ClickCool Ads Inc., through its clickcool.us platform, provides local traders and merchants with all the tools and ingredients it takes to create a shop on the internet and manage a control system, a catalogue of products (physical or downloads) and many means of payment. Just choose the "quality design at your choice." Clickcool does not levy commissions or administrative fees on online orders and sales, and the merchant or trader can keep all of their revenues.
A water and evolutionary e-shop, "an all-in-one integrated ordering and selling system," allows merchants to differentiate and be more competitive among millions of online offers. Merchants can easily manage their orders as well as payments through an intuitive shop manager. Keep track of orders and manage deliveries with ease. The innovative part of the e-commerce offered by Clickcool on its platform gives buyers the possibility to order at the same time in several shops. It is a time saver for a buyer and the orders as well as the payments will be sent to the respective merchants simultaneously. Merchants can then accept credit cards or bank transfers. Security Guaranteed!
A significant technological advantage
The unpublished, thanks to this concept of inbound marketing, consists of a reduction of 65% of expenditure related to marketing. Clickcool allows merchants to develop their visibility on Google local as well as their popularity thanks to the natural referencing of the promotional offers created on a daily basis and which are often renewed. Taking advantage of its large walking place thanks to many visitors attracted by the services, announcements on the platform, as well as all the content created on the Clickcool platform, the information can be shared easily on social networks (Facebook, LinkedIn, Twitter etc. ..)
All subscriptions include the concept of advanced digital marketing with efficient tools to promote all activities. The restaurants are visible on the web and improve their natural referencing in search engines thanks to the specific keywords seized when creating their menus or services offered by their establishments.