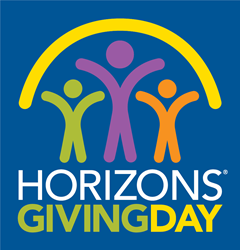 Virginia Beach, Virginia (PRWEB) May 17, 2017
Horizons Hampton Roads is participating in Horizons Giving Day, a national campaign to raise funds to expand educational programs and bring services to more communities and families. Today, May 17, 2017, is the third annual Horizons Giving Day in which local businesses, schools, and volunteers partner with Horizons to raise money and promote awareness.
While Horizons Giving Day is a national fundraising campaign, money raised through this friendly competition supports local Horizons programs. All funds raised in Southeast Virginia stay local and support the growth of Horizons Hampton Roads.
Horizons Hampton Roads is a community‐centered educational program working to close the opportunity gap for low‐income children in Kindergarten through 8th grade in Norfolk, Portsmouth and Virginia Beach. Each summer, Horizons students experience six‐weeks of academics, arts, S.T.E.M. and other programs to maintain and enhance reading and math skills.
Horizons Hampton Roads has a local goal of $10,000. Donations to Horizons Hampton Roads can be made on-line today, May 17th, at https://www.givegab.com/nonprofits/horizons-hampton-roads.
For more information on how to transform young lives in our area, visit http://horizonshamptonroads.org/givingday/ or contact January Serda, Director of Development for Horizons Hampton Roads, at (757) 412-0249, extension 4.