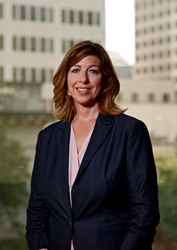 Austin, Texas (PRWEB) June 12, 2017
As part of its continued mission to provide extraordinary customer experiences, Capson Physicians Insurance Company has named Laura A. Cook, Esq. its new Director of Claims. In her new role, Cook will utilize her 20 years of experience in litigation and claims and litigation management to strengthen Capson's commitment to its insureds.
"Working with our dedicated, in-house claims attorneys, our team will continue to quickly and appropriately resolve any asserted claims, and when necessary, engage outside counsel from our impressive medical malpractice defense panel," Cook said. "I am very excited to be here at Capson in beautiful Austin, Texas, and for the opportunity to be an integral part of the process in protecting the interests of our physician insureds."
Prior to joining Capson, Laura spent several years in private practice at a commercial litigation firm where her practice areas included complex business disputes, insurance coverage and defense, and consumer protection law. Laura also spent more than twelve years in professional liability claims and litigation management where she aggressively advocated on behalf of her clients and their physician and non-physician providers.
In addition to handling her own national docket, Laura managed a team of claims attorneys responsible for managing the professional liability claims of a publicly traded physician staffing company.  Laura is a graduate of Southwestern University (B.A.) and South Texas College of Law (J.D.).
"Laura has an extraordinary combination of experience and expertise which will help take the Capson physician experience to the next level," Maury Magids, Capson President & Founder said. "Bringing her onto the team is part of our aggressive ongoing mission to be transparent, build trust and exceed expectations."
###
ABOUT CAPSON
Capson Physicians Insurance is transforming the medical professional liability industry at all touch points for stakeholders including physicians, partners, distributors, employees, investors and more. Our people, partners and technology center around creating extraordinary experiences like automated online enrollment, efficient and accurate underwriting, and immediate claims responsiveness. Our company is defined by personal service with integrity, faster resolutions and a high level of transparency