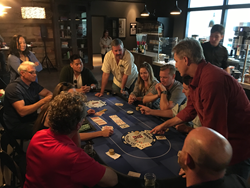 Our first annual Poker Tournament was a tremendously successful night thanks to the generosity of all the attendees.
Laguna Beach California (PRWEB) June 13, 2017
KORE1, a leading provider of IT and creative staffing solutions nationwide, held their first annual Poker Tournament on the evening of June 4th, 2017 in Laguna Beach, CA where nearly $2,000 was raised for charity. The contributions of over 60 attendees resulted in donations of $500 to HomeAid, $500 to OC Autism, and $900 to Charity on Wheels.
Our first annual Poker Tournament was a tremendously successful night thanks to the generosity of all the attendees, said Robert Ardell, Managing Partner at KORE1 and organizer of the event. It's an honor to have facilitated such great fun, food, and fellowship that benefitted several great causes. The turnout was superb and the setting was perfect.
The event took place at Kitchen in the Canyon, where Chicken Marsala was served among several culinary snacks as well as a wide selection of craft cocktails, beer, and wines from around the world. Party planner Laura Buckle of LB Luxury Events assisted in putting together the evening, and DJ trouble provided the soundtrack. While all attendees left a winner with a KORE1 goodie bag, over a dozen notable prizes were given out that included a Beauty with a Mission gift basket valued at $650, a 5.11 Tactical & Outdoor Tech package worth $250, and a $100 Eva's Caribbean Kitchen gift certificate.
At KORE1, we find tremendous value in getting involved with the local community and raising money for worthy causes, shared Steve Quarles, President. Events like our annual Poker Tournament allow us to combine both of these values into one exciting evening that has a tangible, positive impact.
At the conclusion of the Poker Tournament, Eric Hansen beat out Rob Ryan, Bob Caustin, Chris Guziak, and Dave Lim to emerge the winner. Hansen received a $500 VISA gift card and bottle of champagne for his victory. A Blackjack Tournament was held simultaneously, where Kevin Shearer took top honors and received a Hand & Stone Massage gift certificate. KORE1 is already planning next year's tournament with the goal of making it even larger and raising more money for charity.
About KORE1
KORE1 is a leading provider of IT and creative recruiting solutions nationwide, and concentrates in the areas of IT, engineering, accounting & finance, sales & marketing, digital / creative, and healthcare. They specialize in various resource delivery models, including projects, on-site team-based, off-site team-based, and staffing on a contract, contract-to-hire, and direct-hire basis. For additional information, visit http://www.kore1.com.