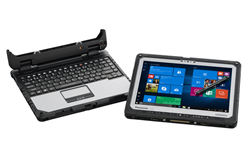 The larger screen size, versatility, lighter weight, performance package options, and price point are ideal for users wanting a customizable option without sacrificing performance.
Chandler, AZ (PRWEB) June 20, 2017
Group Mobile, a rapidly expanding premiere provider of innovative, full service mobile technology solutions has expanded its product line to include the Panasonic Toughbook 33, the fully-rugged 2-in-1 detachable laptop features a 3:2 display. Inspired by workers in tough environments, the Toughbook 33 2-in-1 detachable laptop delivers rugged mobility with an abundance of customizable options for police, fire, ambulance, and enterprise.
"We expect the Toughbook 33 to be extremely popular among our customers requiring a fully rugged two-in-one device," said Stephanie Kreitner, Executive Vice President of Group Mobile. "The larger screen size, versatility, lighter weight, performance package options, and price point are ideal for users wanting a customizable option without sacrificing performance."
"From the beginning, we've designed the Toughbook product line with the demands of the mobile workforce in mind and the 2-in-1 Toughbook 33 device is the truest expression of that commitment to date," said Brian Rowley, Vice President of Marketing and Product Management, Panasonic System Communications Company of North America. "From its remarkable 3:2 display to its durable-but-flexible detachable design, the Toughbook 33 laptop is purpose-built to reset expectations for rugged mobility."
The Panasonic Toughbook 33 2-in-1 laptop is powered by 7th Gen Intel® Core™ i5 and i7 processors and Windows 10 Pro, delivering incredible performance. Working to address customer concerns about their Windows 10 migration, the Toughbook 33 device will also be available with a Windows 7 Professional downgrade powered by 6th Gen Intel Core i5 and Core i7 processors. This allows for compatibility with existing deployments thereby helping customers plan for a smoother transition to Windows 10.
The Toughbook 33 2-in-1 laptop is built for maximum mobility with two twin hot-swappable batteries that provide 10 hours of life. In addition, the optional Long-Life Battery configuration doubles battery life to 20 hours for the most demanding mobile professionals. The Toughbook 33 laptop provides six flexible usage modes and offers two keyboards to choose from to accommodate the unique needs of different mobile professionals.
As for vehicle installations, the Toughbook 33 two-in-one device is available with two different vehicle docks for new deployments. The first is a tablet vehicle dock. The second is a 2-in-1 vehicle dock which utilizes the Premium Keyboard and can be mounted either in laptop (clamshell) or convertible mode.
The Panasonic Toughbook CF-33 can be ordered from Group Mobile. For more information on the rugged Toughbook 33 convertible laptop visit: https://groupmobile.com/panasonic-toughbook-33.html.
About Group Mobile
Group Mobile, a wholly owned subsidiary of Form Holdings, headquartered in Phoenix, AZ, serves customers world-wide. Group Mobile is a rapidly expanding and growing and innovative full end-to-end solution provider of rugged mobile hardware, lifecycle services, system integration, hardware service support, pre-and post-deployment, break-fix, warranty repair, customer support helpdesk and more — all constructed to solve pressing problems and ensure our customers are receiving exceptional value, return on investment and a trusted long-lasting partnership. Group Mobile has mastered the true challenges of mobility through understanding the key elements required for a successful mobile deployment — hardware, connectivity, data and customer back-end network infrastructures. Visit http://www.groupmobile.com for more information.